The process of building metal
The process of building metal is composed of the following steps, from raw materials to delivery to the owner.
It consists of Iron ore mining, blast furnace ironmaking, blast furnace steelmaking, steel plate assembly and processing, steel component installation, etc.

The materials for the building metal
The materials used for the building metal in the factory include steel plates, steel strips, hot-rolled steel, steel bars, studs, and cast iron.
Steel plate refers to flat steel with a sizeable width-to-thickness ratio and a large surface area.
Steel strip refers to a steel plate with a long length that can provide in coils.
Hot-rolled steel refers to steel in various geometric cross-section shapes rolled by heated steel billets.
Steel bars refer to hot-rolled ribbed steel bars, which often used for processing embedded parts.
Studs mainly use on the outer surface of steel columns and the upper surface of steel beams that need to reinforce with floor plates.
The fabrication of metal building components
The fabrication of building steel components generally carried out in the workshop, and some parts of individual projects are processed on-site. The production mainly includes lofting, numbering, cutting, straightening, edge, and end processing, rounding, bending, hole making, assembly, welding, friction surface treatment, painting, etc.
Sectional form and application range of standard steel
Axial load-bearing members divide into axial load-bearing members and axial load-bearing members.
The cross-section forms include hot-rolled section steel.
Cold-formed thin-wall section steel.
Combined sections.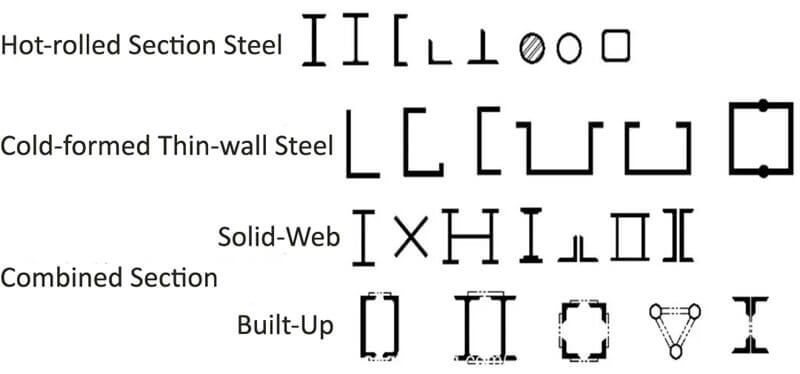 The bending member structure mainly appears in the form of a beam. The bending member divides into a reliable web type and an empty web type cross-section. The web further divides into section steel and welded composite parts. Section steel usually uses wide flange I-beams, channel steels, and cold-formed thin-wall sections.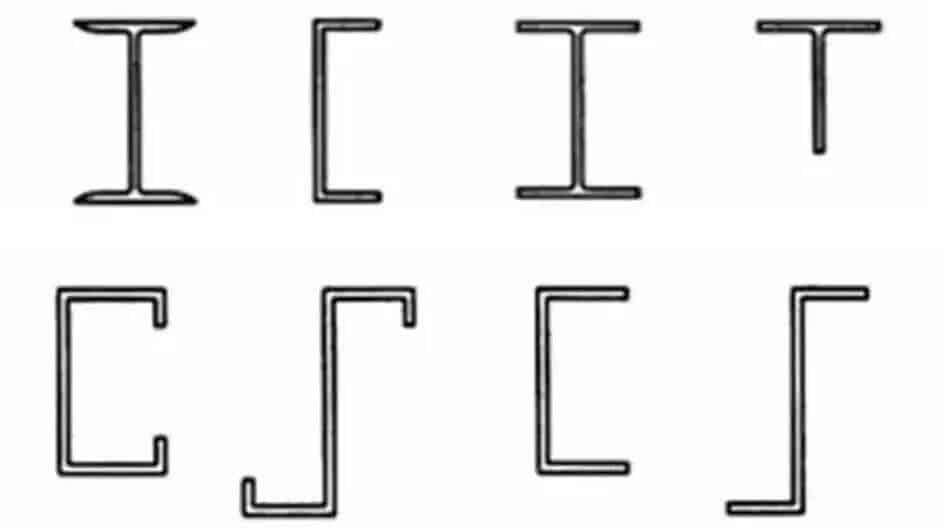 The welded composite section use connecting several steel plates or steel plates with section steel. The part is more flexible, and it is easier to meet various needs in engineering.

Processing equipment in a steel structure factory
From the arrival of raw materials to the delivery of building metal components, steel structure products need to be cut, assembled, welded, rectified, drilled, shot blasted, and painted. Each process requires processing equipment.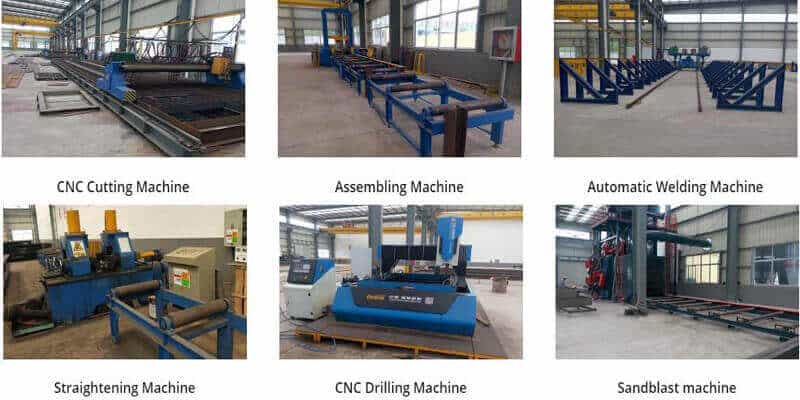 The Fabrication processing of H Beam
I-beam assembly includes cutting, assembling, welding and correcting.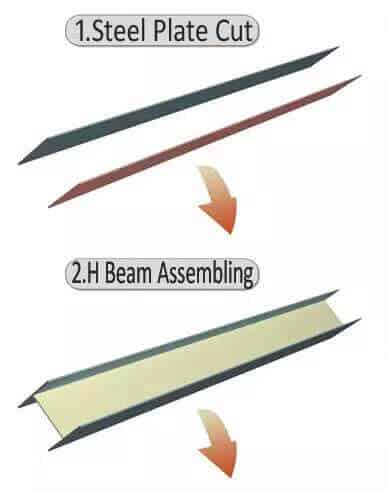 1. The webs and flange plate of H-beams cut with flame or plasma cutters.
2. The cut steel plate formed into an H shape by the assembly machine.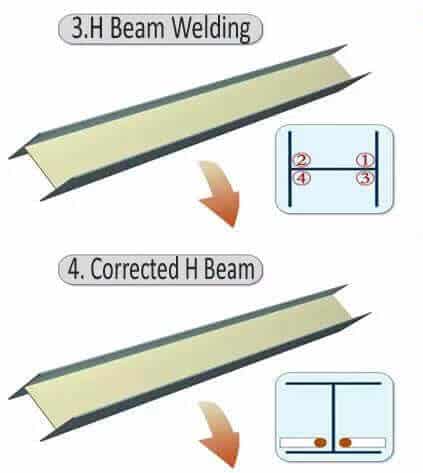 3. The flange and web plate welded into H-beams on the gantry welding machine.
4. The H-shaped steel will deform after welding. The straightening machine uses to correct the deformed flange plate after welding.