Steel Structure Building
Compared with traditional buildings, steel structure building is a new building structure—the entire building made of steel. The structure mainly comprises steel beams, columns, trusses, and other parts made of thin-walled steel and steel plates. It is connected between parts and parts by welding, bolts, or rivets. The lightweight and simple structures are widely used in large factories, stadiums, super high-rise buildings, and other fields.
Steel Structure Building provides affordable, durable, and low-maintenance solutions for workshops, warehouses, agricultural buildings, garage buildings, and aircraft hangars. Compared to wooden structures, steel is resistant to strong winds, heavy snow, and termites. The interior layout of the metal buildings can be fully customized to meet your needs.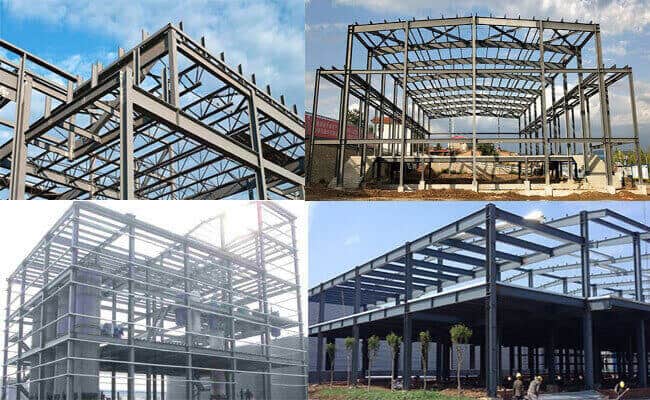 The steel structure building is sturdy and durable and can withstand high winds, snow, or earthquakes. Our structural engineers design the building structure according to the local wind and snow load to ensure that the entire building can withstand the harsh external weather.
The steel structure is installed quickly, and the construction time is short. All steel components were processed in the workshop, cut, welded, drilled, sandblasted, and painted, and delivered to the project site for installation. It does not cause environmental pollution at the installation site.
The enclosure system is made so that they overlap when assembled. It does not leave any openings, so the building is isolated from the outside world. It helps to make the building warm in winter and cool in summer, saving energy costs.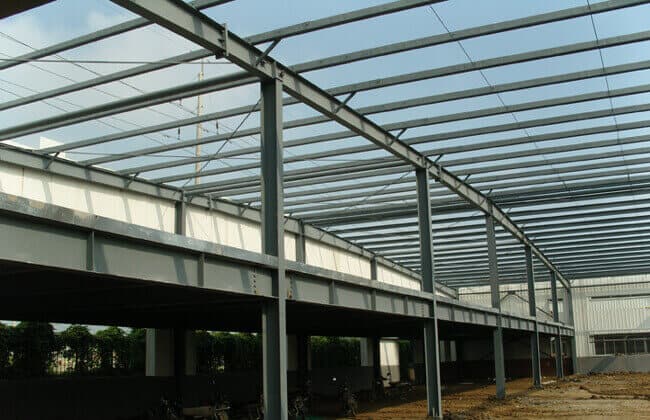 Description of Steel Structure Building
All steel structure buildings components are designed and manufactured in the factory, cut, welded, and drilled strictly following the manufacturing drawings to ensure that the structure tolerance is less than 2mm. Compared with traditional concrete buildings, the installation of metal structure building is easier and faster to complete. After installation, the owner can save on construction and labor costs during installation.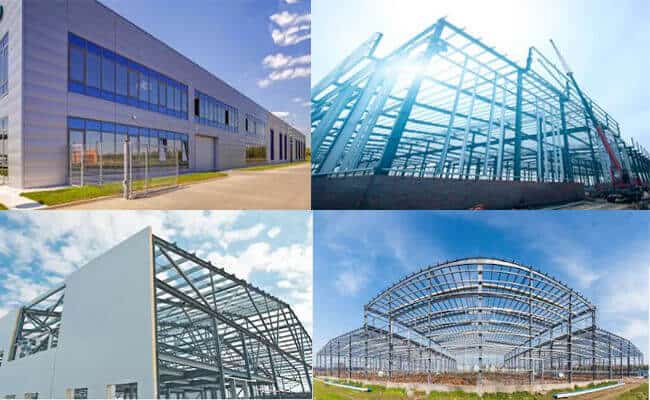 Havit Steel supplies metal structure building components directly from the factory so that we can offer you the lowest prices without commissions from intermediaries, and these buildings are all-inclusive. Every building comes with all the necessary components, including the main steel frame, bracing system, purlin and wall girt, bolts, and screws. It also comes with roll-up doors, windows, and colorful wall panels. We can provide you with everything you need to build industrial, agricultural, and commercial buildings on the land, providing solutions for individuals and businesses.
Factors affecting the price of steel structure Building:
1. Raw material prices
Fluctuations in the price of steel have an important impact on the price of steel structure buildings. The increase in steel prices will directly cause the overall price of steel structure buildings to rise.
2. External load
External loads include wind load, snow load, dead load, and live load. Structural engineers calculate the steel structure based on the external load. If the load is large, the amount of steel used in the structure will increase.
3. The span of the steel frame
The larger span of the steel frame, the greater the amount of steel used per steel frame. More than 30 meters is considered a large width. If the steel frame has a large span and no center pillar, the amount of steel used will increase.
4. Structure
For steel structure buildings with cranes or mezzanine floors, to ensure the safe operation of cranes, steel columns will be increased, and columns of an equal cross-section will be adopted, which will increase the amount of steel used in the building.
Conclusion:
The amount of steel used plays a vital role in steel structure buildings. Therefore, structural engineers must optimize the structure as much as possible during the design process while ensuring safety, reducing the amount of steel used, and saving costs.
Characteristics
Seismic resistance
1) The steel structure has excellent flexibility, which can offset the energy consumption of seismic waves.
2) Steel is anisotropic material with high tensile strength, compression resistance, shear strength, and good elasticity. Especially, steel structures with their unique high flexibility, reduce earthquake response.
3) The steel structure can also regard as a relatively ideal elastoplastic structure, which can absorb and consume seismic input energy through the plastic deformation of the structure so that it has a higher ability to resist strong earthquakes.
4) The steel structure has a lighter weight than other building materials, which also dramatically reduces shocks' impact.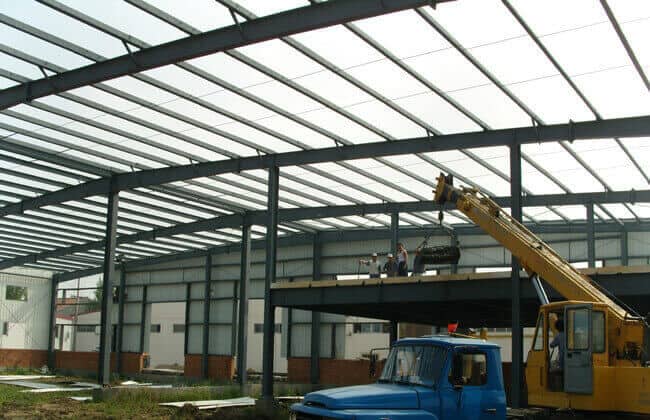 Wind resistance: The steel structure warehouse has lightweight, high hardness, excellent overall rigidity, and strong anti-deformation ability. The building's weight is only one-fifth that of the brick-concrete structure, which can resist hurricanes of 70 meters per second, so that life and property can be protected most. Besides, the steel members have strong extensibility and plastic deformation ability and have excellent earthquake resistance and wind resistance.
Lightweight: The strength of steel is higher than that of concrete and masonry structures. Compared with concrete structures, steel structures have a lighter weight than concrete buildings. The density of steel is higher than the mass of concrete; the strength to density ratio of steel is much higher than that of the concrete.
The Advantage
Prefabricated steel structure buildings have many functions and are well suited for industrial, commercial, and agricultural needs.
Durable
The pre-engineered steel structure building design to meet snow loads. With precise engineering and design, these buildings use for decades.
Energy efficient
Steel requires little maintenance or repair. Prefab Metal buildings also install faster than other traditional concrete materials.
Customized
Metal Buildings provide structures with design flexibility, and you can help create your custom building to meet all your needs and budgets. Wall panels and roof panels are available in a variety of colors to suit your needs.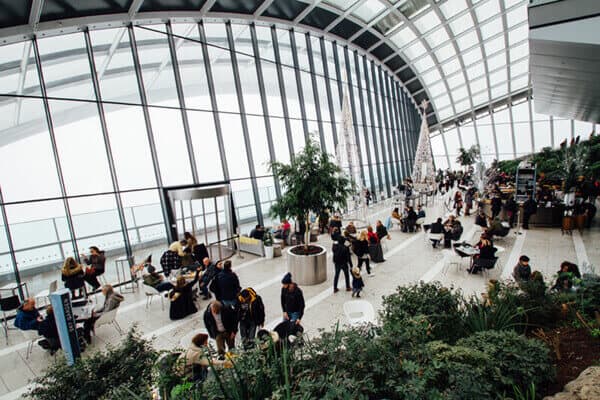 Steel structure building applications appear in every corner of our lives. Compared with traditional concrete buildings, steel structure buildings use steel plates or sectional steel instead of reinforced concrete, which has higher strength and better seismic resistance. And because the building components are factory-made and installed on-site, the construction period is significantly reduced. Because steel can reuse, construction waste is dramatically reduced, and it is environmentally friendly. Now we introduce some steel structure building applications. Steel Structure Building Applications 1.…