Because warehouse leases outpace construction, defects can easily occur during construction. To avoid this, the article lists six of the most general considerations for industrial warehouse design. Then, it provides six examples of getting it right, including ample clear span, roof utilization, energy efficiency, durable flooring, air quality, Safety, and Security. These factors and examples help improve design quality and reduce potential legal liability in industrial warehouse construction.
Since 2010, the demand for industrial space has increased by a whopping 24%. Much of this can be attributed to more demand for warehouse space to accommodate a burgeoning e-commerce and direct-to-consumer business model.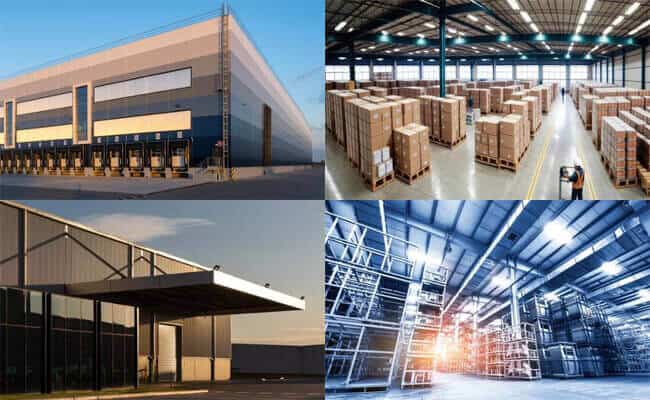 With warehouses renting faster than they can be built, it can be tempting to cut corners during the construction process. To help avoid this pitfall, read for some of the most prevalent industrial warehouse design considerations and six examples of building them right.
Six Considerations for Improving Industrial Warehouse Design
Ample Clear Span
A primary focus in industrial warehouse design should be to achieve as much interior clear span as possible. Not only will this allow for more room to utilize shelves, deploy racks, and maneuver machinery, but it provides more versatility in terms of rearranging and repurposing the space.
How to do it right: There is no better way to guarantee sufficient clear span in a warehouse than by building with structural steel. Metal buildings regularly span over 100 feet in any direction without support beams, providing thousands of square feet of clear interior span than other framing types cannot match for industrial warehouses.

Industrial Warehouse Design for Roof Utilization
With the explosion of e-commerce in recent years, there has been a significant trend to build smaller, more mobile fulfillment centers closer to large population concentrations in place of more sprawling storage warehouses in the middle of nowhere. This has caused some warehouses to become noticeably more vertical, even utilizing the rooftop for temporary storage and light packing purposes.
How to do it right: When utilizing a warehouse rooftop, it is essential to ensure structural reinforcement. This includes applying b-decking to the roof substrate. B decking provides shear support that transfers vertical loads horizontally to the building's frame. This helps prevent acute damage to the roof and allows it to accommodate significantly more weight than it could without b decking.
Energy Efficiency
With the United States eyeing a net-zero economy by 2050, industrial buildings must be constructed with energy efficiency at the forefront. Not only will this help save on utility costs in the short term, but it will keep them ahead of rapidly evolving energy efficiency standards and building ordinances.
How to do it right: No shortage of materials can help improve a building's energy efficiency. Solar panels and other PV-capable materials are a great place to start creating renewable energy for prefab warehouse buildings. Some ideas for limiting energy consumption, in general, are through exterior wall insulation and hurricane-grade storm windows to help seal the building envelope in all weather conditions.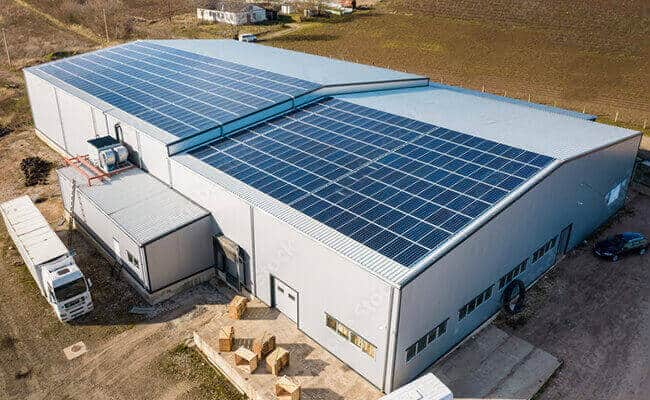 Durable Flooring

Warehouse flooring will be put to a more stringent test than other types of commercial floors. A nonstop barrage of human and machine traffic on the surface will require the market's most durable flooring types.
How to do it right: Concrete is a popular durable flooring option in commercial warehouses. It has many of the same durability properties as more expensive terrazzo. However, when installing a concrete floor, it is essential to apply crystalline waterproofers to prevent water ingress, as concrete tends to be porous and susceptible to water damage.
Air Quality

Air quality has always been a top consideration in industrial warehouse design, with workers required to wear masks and other appropriate PPE to protect them from inhaling potential toxins. However, with the advent of the COVID-19 pandemic, air quality has received refocused attention, with buildings designed to ensure proper ventilation and quick access to fresh air.
How to do it right: Many industrial structures are giving increased focus to functional exteriors to conveniently provide a place for workers to step outside to take a break. In addition, buildings are installing commercial air scrubbers and backdraft dampers in low ventilation areas to eliminate toxins and ensure the correct airflow in these locations.

Safety and Security of Industrial Warehouse Design

Industrial warehouse design must be constantly alert to potential liability. A single safety breach can result in debilitating litigation that extends indefinitely. It is of such concern that it is highly advisable to consult a professional building inspector throughout the construction process to ensure everything is up to current safety standards.
How to do it right: Similar to energy efficiency, there is no way a building can go too far in its safety efforts. However, a few trending features include installing safety doors and credentialed access infrastructure and adding glass railings around all staircases and elevated walkways.

With a considerable increase in demand for industrial warehouse space over the past decade, builders have faced challenges regarding getting quality structures up fast. To help in this regard, consider the six warehouse design considerations listed above and the accompanying examples of how to do it right!