The 100x36m prefabricated warehouse can meet your bulk commodity storage. We designed a 36m clear span without columns inside to maximize the internal use space and complete storage services more efficiently.
All prefabricated steel structure warehouse components can be produced in the factory and installed on the construction site. As a result, the construction is simple and efficient.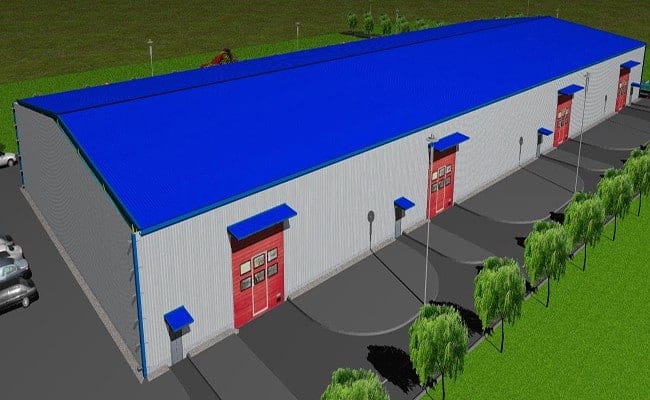 Design of 100x36m prefabricated warehouse
For a span of 36 meters, portal steel frames can be used to design the warehouse structure. Steel columns and roof beams are made of H-shaped steel. High-strength bolts connect steel frame columns, steel frame beams, and steel frame beams.
Design Parameters:
Roof live load: 0.3-0.5kn/m2
Wind load: 0.5kn/m2
Column distance: 6250mm
Cornice height: 7m
Slope: 1/10
Roof and wall panels: 0.5mm Corrugated metal sheets.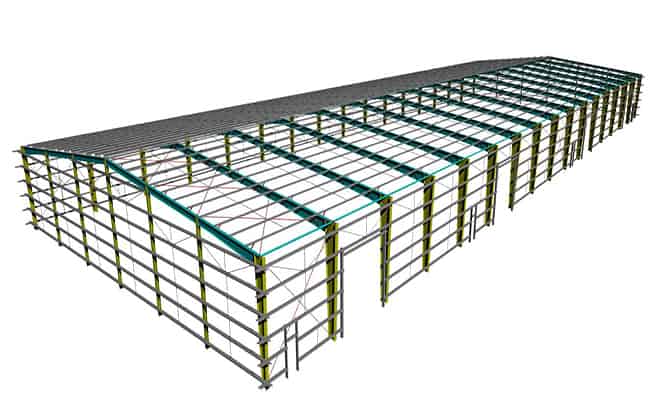 The structural composition of the 100x36m prefabricated warehouse:
1. Foundation
The foundation of the steel structure warehouse building generally adopts an independent foundation, manual excavation pile foundation, rotary excavation pile foundation, etc.
2. Primary structure
The main structure of the steel structure warehouse includes steel columns, roof beams, crane beams, mezzanine floor beams, etc.
The portal rigid frame structure is mainly composed of columns and beams, and the rigid frame is a plane force system, and various loads are transmitted to the foundation through columns and beams. Rigid frame columns and beams are generally made of H-shaped steel with equal cross-sections or variable cross-sections.
3. Secondary structure
The secondary structure of a steel warehouse building includes roof and wall purlins.
Roof and wall purlins bear the force transmitted from the roof panel and wall panel and transfer the power to the columns and beams, generally adopting C-shaped and Z-shaped steel.
4. Bracing system
The bracing system of a prefabricated warehouse building includes roof bracing, column bracing, tie rod, and fly bracing.
The steel structure warehouse is equipped with inter-column and roof bracing, mainly to ensure the longitudinal stability of the structure. According to the form of force, bracing is divided into rigid and flexible. The rigid bracing is made of hot-rolled section steel, generally angle steel. Flexible bracing typically uses round steel.
The tie rods are compressed round steel pipes, and together with the roof and inter-column bracing, they form a force-bearing closed system.
5. Auxiliary structure
The auxiliary structure of the steel structure single-story factory building includes stairs, railings, a canopy, etc.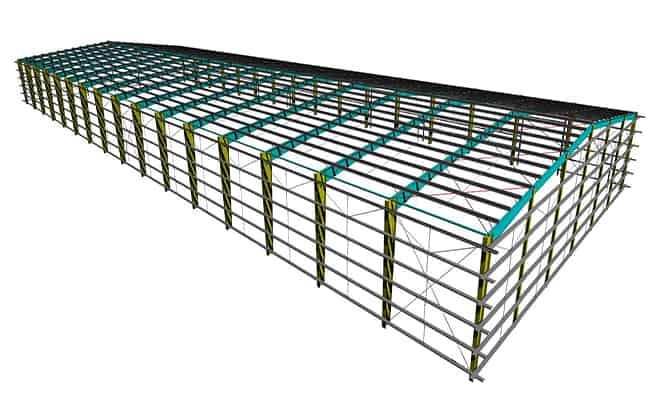 Advantages of prefabricated steel structure warehouse:
1. Because the warehouse needs to store items, its space size is one of its most important selling points. The steel structure warehouse takes this selling point to the extreme because its building structure uses steel to build a larger area. In addition, warehouses generally store storage items, so we are most worried about the impact of fire, corrosion, and other factors on the goods. However, steel structure warehouses avoid these problems to a large extent. On the one hand, because steel structure buildings are relatively light and relatively high in strength; on the other hand, because generally, large warehouses have large spans, prefabricated steel structures can meet this condition.
2. Many large warehouses urgently need construction, while steel structure warehouses have the advantages of a short construction period, convenient construction, and low investment cost. In addition, with the development of the enterprise, some warehouses may need to be relocated. Currently, the advantages of prefabricated steel structure buildings are more prominent. The steel components are connected by bolts, which are easy to disassemble, light in weight, and more convenient to carry. In addition, reuse does not create pollution problems.