In recent decades, the country has vigorously developed infrastructure, and there are many infrastructure projects at home and abroad, of which steel structure projects account for an increasing proportion. For example, steel structure skating rinks, stadiums, cinemas, theaters, exhibition halls, museums, schools, churches, subway stations, railway stations, airports, swimming pools, etc., can basically be steel structures. Now that the economy is developing rapidly, community facilities are becoming more and more complete, and many communities have their own or shared community sports centers. Most of these infrastructures are also constructed of steel structures. The advantages of steel structure buildings are self-evident.
Here we specifically introduce the steel structure skating rink. In our daily life, steel structure skating rinks can be used by the community, and most of them are built for professional sports or entertainment. What is the difference between a steel structure skating rink and a reinforced concrete building skating rink? What are the advantages of the steel skating rink? The benefits of steel structure skating rink are mainly reflected in three aspects: space design, operating costs, and the unique advantages of steel structure.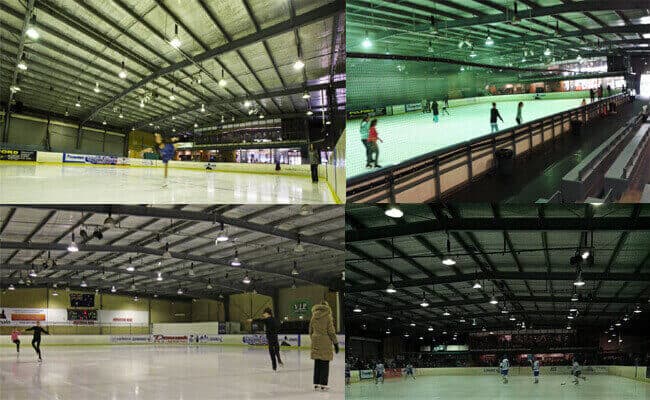 1. Space advantage
The skating rink needs vast space, without pillars. Then the advantage that steel structure buildings can be designed into large spans and ample spaces is perfect for the space requirements of the skating rink. The steel structure skating rinks can provide athletes with a broader and more comfortable indoor sports space.
2. Operating costs
Three main factors affect the cost of ice rinks: indoor temperature, energy costs, and facility maintenance. Only by controlling operating costs can an ice skating rink continue to operate.
The skating rink has exceptionally high requirements for indoor temperature, and a large amount of electricity is mainly consumed in the cooling of the shrinking machine. In addition, skating facilities need adequate ventilation, and it is essential to control the air temperature and the environment. Therefore, the reasonable use of thermal insulation materials for steel structures can fully reflect its energy-saving advantages.
In a humid environment, skating facilities are likely to cause metal and wood rot and mold to grow on concrete walls due to high internal humidity. Therefore, sufficient airflow is necessary, reducing the moderation and keeping the facilities in good condition. This is one of the reasons why most granaries choose to use steel structure granaries.
3. Unique advantages of steel structure skating rink
If the skating rink is built with a steel structure, the skating facility will not be plagued by moisture and mold problems. In terms of utility savings, the steel structure skating rink is very suitable for installing insulation materials, making the skating rink control heating and air-conditioning compressors consume less electricity. In addition, the vast indoor space of steel structure and good ventilation advantages further save costs.
In addition, the steel structure skating rink has a short construction period, long service life, environmental protection and recyclability, good shock resistance, and low maintenance costs in the later period. Other building structures cannot match the advantages.