When preparing to construct a steel structure building, be sure to consider and select the appropriate roof type and material. If the roof type is correct, the material is suitable, and the installation is correct, the steel structure roof can last for 50 years or more.
Steel Structure Roof Type
Steel structure roof types are generally divided into three categories: Steel beam structure, truss structure, and grid structure.

The steel roof beam is suitable for buildings with small spans. Hot-rolled sections (I-beam, channel steel, H-beam) are commonly used for small-span beams, and welded I-beams or welded special-shaped steels are used larger-span beams. The vertical parts in the section of these components are called webs, and the vertical and horizontal parts are called flanges. The above beams' webs are all solid steel plates and for larger spans or large-load beams. Because of their large bending moments, they require a relatively high section to resist. Use solid steel plates. The web is too heavy and inconvenient to produce and transport. Generally, it is suitable for buildings with a small span.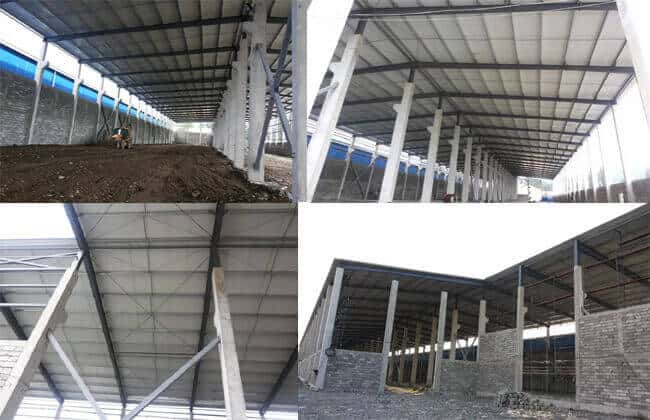 The truss structure refers to the truss beam, which is a latticed beam structure. Truss structures are often used in large-span factories, exhibition halls, stadiums, bridges, and other public buildings. Because it is mostly used in building roof structures, trusses are often called roof trusses. Its web is composed of many small cross-section rods, which is also called an open web (or lattice type) beam.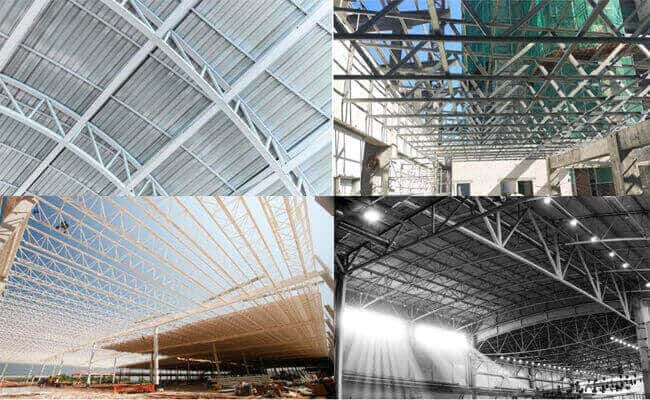 Grid structure: a spatial structure formed by connecting multiple rods through nodes in a certain grid form. It has the advantages of small space stress, lightweight, high rigidity, and good seismic performance. It can be used as the roof of buildings such as stadiums, theaters, exhibition halls, waiting halls, stadium stands, hangars, and two-way large column spacing workshops. The disadvantage is that the number of rods converging on the node is large, and the production and installation are more complicated than the planar structure.

According to the building type, choose the most suitable steel roof structure.
Environmental impact
The roof material, slope, type, contour, shape, thickness, and the decorative surface of the steel should be selected following local environmental factors. For example, there is a lot of rain and high temperature, the slope of the roof cannot be too small, and it is not necessary to use too thick insulation materials. There are little rain and snow in northern my country, and the temperature is low. The roof slope does not need to be too large, but heat preservation must be considered. Roofs in coastal areas should consider the issue of resistance to wind and better corrosion resistance. In hot areas, steel roofs should be designed with roof panels that accommodate thermal insulation and reflective surfaces.
Cost issues of steel structure roof
The complexity of the roofs of different structures is different, and the price cannot be considered. Low unit price means thinner steel, poor corrosion resistance, and a poor finish. Then the maintenance cost will increase, and the service life will be greatly reduced. Besides, there are many steel structure components, and the installation is complicated. It requires professional construction personnel to install it. Otherwise, it will cause unnecessary rework, wrong measurement, or installation, leading to increased reworked material costs and labor costs. Not only will the construction period be delayed, but it will also increase the total cost.
Besides, the material of the roof panel is different; the installation method will be different. Experienced installers will promptly give an effective installation plan to complete the installation of the steel roof faster. They will also promptly discover and solve some installation problems to ensure that the project is completed on schedule.
Roof skylights and ventilation fans
The steel structure roof must consider whether to add skylights and ventilation fan equipment. If they are added later, it will easily cause roof leakage.
A suitable steel structure roof can make the room warm in winter and cool in summer, greatly saving energy costs. A suitable steel structure roof can resist strong typhoons and, at the same time, resist hail damage. The reasonable roof design makes the load capacity of the steel structure roof much stronger than that of other material roofs, making it safer and more stable.