There are many structural forms in steel structure building, such as steel frame, rigid metal frame, grid frame, and other forms. Each form has its bracing system. Steel structure bracing system is a minor part of steel structure building, but it is also an indispensable part. Here we mainly introduce the bracing system used in steel structure workshop and warehouse building.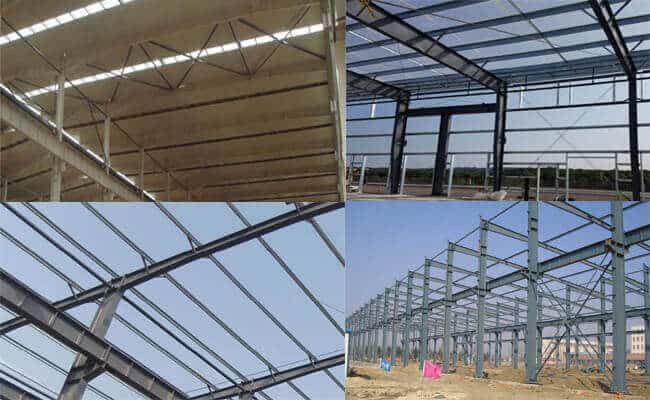 Steel Structure Bracing system for Rigid Metal Frame
The bracing system can be divided into roof horizontal bracing, wall bracing, Tie rod, and Flange bracing in the rigid metal frame.
Roof Horizontal Bracing
The roof horizontal bracing and column bracing are a whole, which maintains the structure's stability and transmits the vertical-horizontal load through the roof and wall bracing to the foundation.
When setting up a roof bracing system, the tie rods must be installed at the roof ridge and eave to ensure the transmission of horizontal force.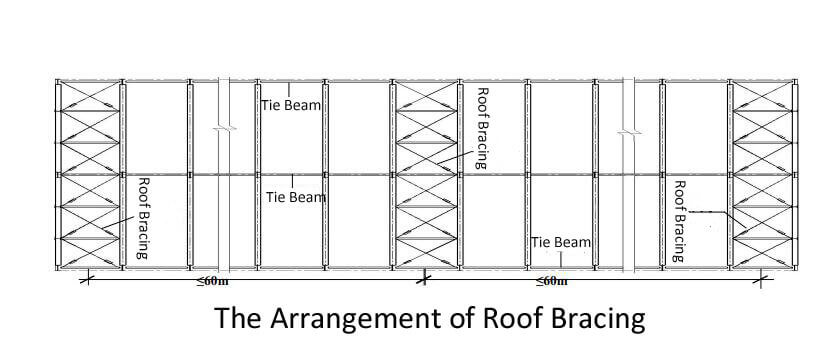 Clumn Cross Bracing
The column cross bracing also called wall bracing, which set between two adjacent columns to ensure the overall stability of the building structure, improve the lateral rigidity and transmit the horizontal force.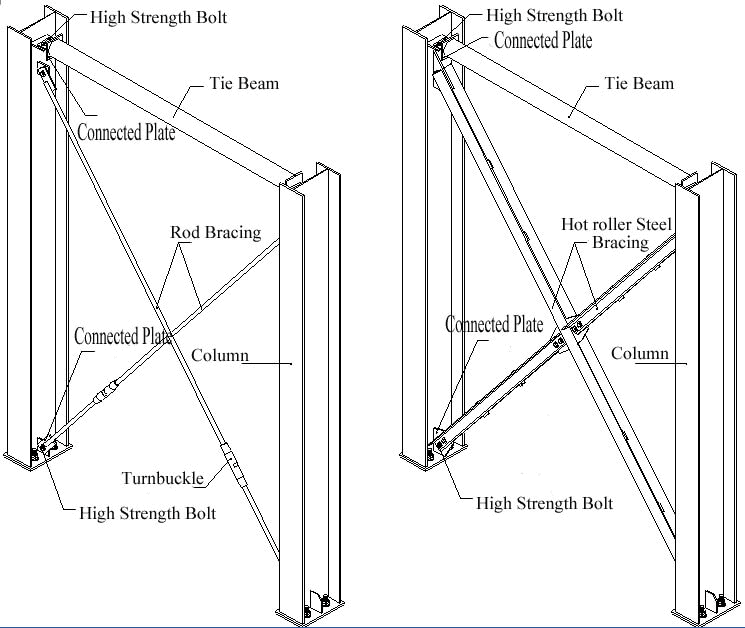 Column cross bracing divide into two types: flexible and rigid bracing. The flexible bracing is made of round steel and must be tensioned during installation. It is mainly used for rigid metal frame structures. The rigid bracing is made of angle steel or H beam used in structures with high rigidity requirements, such as multi-story buildings and workshops with cranes.
Why Steel Building Need Wall Bracing
Tie beam
The tie beam is made of round pipes, with end plates welded at both ends and connected with the structural frame by bolts. It is arranged along the full length of the building, generally at the eave and roof ridge.
Flange Bracing

Flange bracing is made of angle steel, which is arranged between the lower flange of the roof rafter and the purlin or between the inner flange of the column and the wall girt. It supports the stability of beams and columns.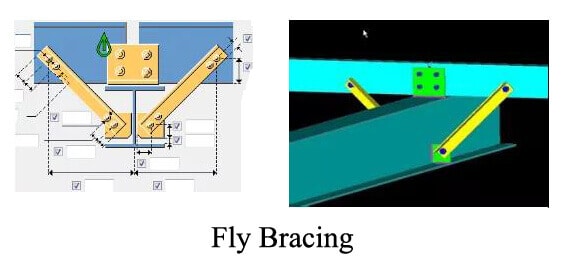 In a rigid metal frame, the primary structure bears the stress. The steel structure bracing system completes the force transmission and supports the beam and column. They are essential, and they are related to the safety of the installation process and the safety of the entire structure.
Steel structure bracing system work together to form the overall stiffness of the structure. The bracing system bears and transmits the horizontal wind load of the gable wall, the seismic effect, the braking force of the crane, and the temperature stress, and transmits the horizontal load to the foundation.
The principles of steel structure bracing system setting:
Transmit the longitudinal load clearly, reasonably, and, and shorten the force transmission path as much as possible;
Ensure the stability of the structure system outside the plane, and provide lateral support points for the overall stability of the structure and components;
Convenient structure installation;
Meet the necessary strength and rigidity requirements, and have a reliable connection.