Now that there are more and more steel structure factories, the competition for steel building construction is also increasing. To win the match, steel structure manufacturers are paying more and more attention to quality and service. So how can we better win the competition? What are the key points that steel structure manufacturers should pay attention to when choosing steel?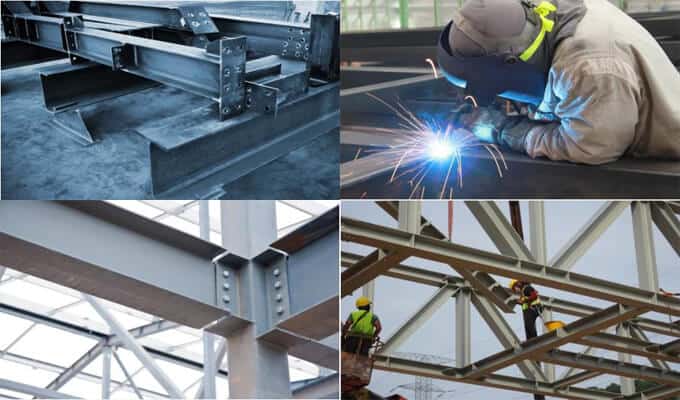 Why Steel Affect the Quality of Steel Building Construction
1. Steel structure quality:
For significant steel building construction such as heavy industrial buildings, large-span steel buildings, high-rise or super-high-rise civil buildings, it should consider choosing better quality steel structures. As for the light steel structure for industrial and civil construction, could use ordinary steel structure to save costs and achieve both quality and price.
2. Load situation of steel building construction:
Steel structures should select good overall performance for steel buildings directly subjected to dynamic loads and in areas with solid earthquakes. For example, the steel can be Q355B; for structures subjected to static loads, it could use Q235B steel.
3. Connection method of steel structure:
The welding process will produce welding deformation, welding stress, and other welding defects, and there is a danger of causing cracks or brittle fractures in the structure. Therefore, the material requirements of the welded frame should be stricter. For overseas steel building construction, bolting should select as much as possible. The bolt connection will make the site installation much more accessible and improve installation efficiency.
4. The temperature and environment of the steel structure:
The steel structure is easy to be cold and brittle when it is at low temperature. Therefore, the metal structure that works under low-temperature conditions, especially the welded structure, should choose killed steel with good resistance to low-temperature brittle fracture. In addition, the open-air structure is prone to aging, and the steel structure, under the action of harmful media, is prone to corrosion, fatigue, and fracture. Therefore, different materials should also select differently.
5. Thickness of steel structure:
The thin steel structure has many rolling times, the rolling compression ratio is large, and the thick steel structure has a small compression ratio, so the thick steel structure has lower strength and poor plasticity, impact toughness, and welding performance. Therefore, a steel structure with better material should use for the welded frame with a large thickness.
Choosing more suitable steel according to the situation can optimize the quality and save costs better and give customers a better choice. Don't ignore quality and safety and only consider the cost. Small losses can only cause safety problems. Inappropriate steel will shorten the service life of steel structure projects, increase maintenance costs, and cause safety issues.