Agricultural Steel Building
There are more and more Agricultural Steel Building on the farm, and customized steel structure building manufactured by Havit Steel designed and built for a variety of agricultural uses. Still, the most common is farm storage, where there is space for tools and farm equipment. It can also help farmers maintain an efficient work environment.
Customers often consult us about steel structure agricultural buildings. From 2009 to now, we have done some Agricultural Steel Building Projects. Not only in foreign countries but now there are many large farms in China. As the national policy is even more inclined to agricultural development, the development of a new type of agricultural management system, and the gradual formation of large professional households, family farms, farmer cooperatives, and other organizations based on household contractual operations. The form is a supplementary new agricultural management system. The demand from domestic farms will also significantly increase.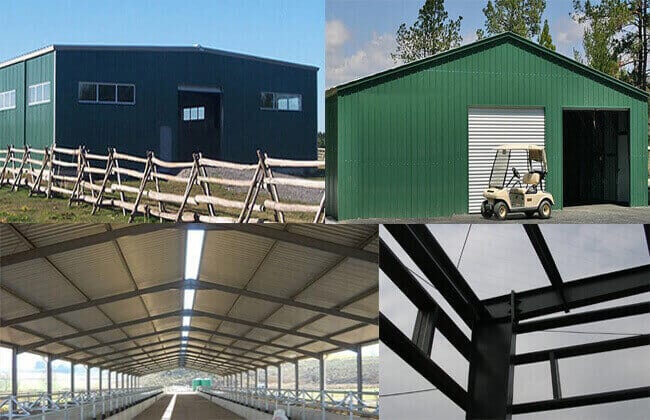 The most suitable agricultural building structure
Agricultural buildings are an essential material basis for rural economic and social development and the improvement of agricultural production. In recent years, with the rise of agricultural industrialization and the acceleration of agrarian scale, steel structure agricultural buildings are increasing.
The environment is stable.
The steel structure building is easy to heat insulation. The use of thermal insulation cotton wall panels and roof panels with insulated doors and windows can better maintain the indoor environment stability. Air conditioning, heating, and ventilation systems contribute to animal comfort and keep air flowing. The correct temperature is suitable for animals and people.
Extended storage
The steel structure building is elementary to expand and expand. It is possible to build independent, unique rooms for storage, bathing, and slaughter of agricultural products, adding to the existing building. The setting can design storage space for feed, products, and equipment, which is close to the agricultural products so that it is not necessary to carry it to another building in the open air during storms and rains.
Steel structure farm building design by Havit Steel will provide ample storage space, and the durable. The economical building structure can design for multiple uses:

Type of Steel Structure Agricultural  Building:
Steel greenhouses commonly used in vegetable and other planting industries, and large-scale agricultural demonstration parks have constructed a large number of greenhouses and livestock houses. Besides, there are many storage buildings for storing grain and other agricultural products.
Farm storage: It can provide the space needed for farm operation to use as animal feed or crop space. According to storage needs, agricultural buildings can design according to customers'requirements.It can provide low-cost, multi-purpose storage for farmers.
Equipment storage: Although the equipment used in different farms uses, and different sizes of agricultural machinery.Each farm may have some significant mechanism, farmers need a space to store and maintain the machine when they are not using it.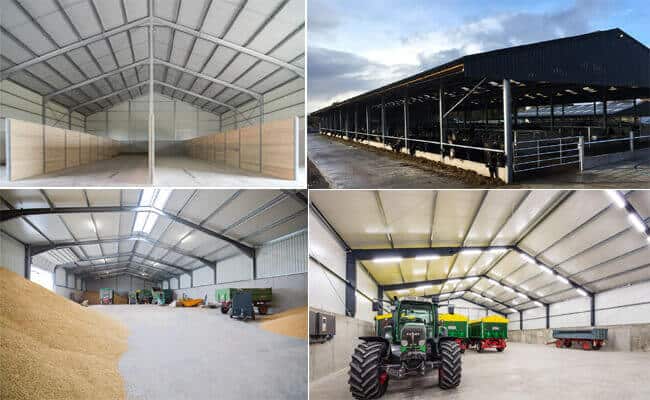 Steel structure buildings with clear spans can provide farmers with enough space. It is effectively used and manipulate the equipment in the building.
When clients inquiry farm building from us, we need to know the exact dimensions of prefabricated steel structure building, it includes length, width, height, any insulation requirements in walls and roof panels, local wind and snow load on the roof. It ensures the building is durable.
We will work with you to add customized options, including various doors, windows, and the color of the exterior wall and roof cladding.
Easy-to-use prefabricated steel building, let's modify the building's layout and add more customization without exceeding the budget. From design to construction, we provide materials and expertise steel building kits that transform into a fully functional agricultural building.
The advantage
1. Security
Steel structure building can better resist natural disasters, and strong winds, rainstorms, insect damage, decay, and fire. Make sure the farm and ranch are running well. Agricultural equipment also significantly secured. It will not cause livestock damage due to the collapse of the disaster, causing huge losses.
2. Stable environment
Prefab steel building is natural to insulate heat, and can better keep the indoor climate stable. Air conditioning, heating, and ventilation systems help animals to be comfortable and keep air flowing, and the temperature is right for them and people.
3. Insect and bite prevention
Steel structure farms and pastures have apparent advantages in preventing pests and animal bites. Because the building structure uses steel as the material, there are no hazards such as wood that is easily damaged by insects and animals chew on the building.
4. Extended 
The steel structure building  is straightforward to expand in the future, which can add more special rooms for agricultural product storage, bathing, and slaughtering to the existing building. The installation can design storage space for feed, products, clothing, and equipment, especially close to agricultural products, so that there is no need to move it to another building in the open air during storms and rain.
5. Low comprehensive cost
The short construction period of the metal structure buildings dramatically reduces the labor cost. Moreover, the maintenance cost is also low. Long-term safe operation is not smooth to damage, which is a considerable saving for the farmers.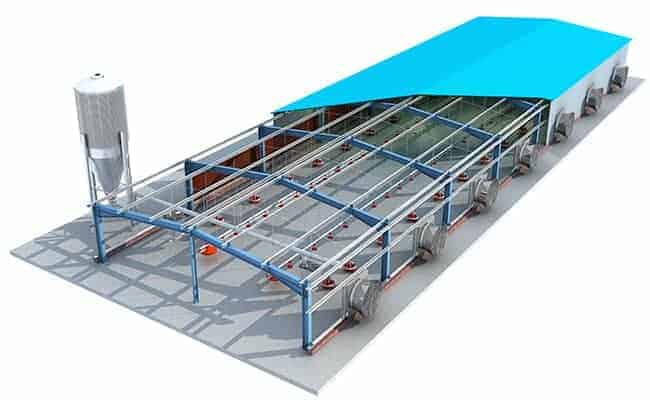 The poultry breeding industry is continually reforming and innovating with the rapid development of agriculture and the economy. The steel structure poultry building is a new type of poultry breeding building. It has the characteristics of fire resistance, water resistance, acid and alkali resistance, corrosion resistance, lightweight, and thermal insulation. The internal structure adopts vertical columns as vertical supports, which increases the space of the poultry building, facilitates the ventilation…