Steel Warehouse Building SriLanka
Havit Steel has processed a two-story steel structure warehouse building in Sri Lanka. All steel structure parts bolted. We ship it to the customer's site after processing it in the factory. It installs by local workers. The width and length of the steel structure warehouse are 28.3 meters, the eave height is 6 meters, and the mezzanine is 3 meters high. The warehouse building uses the 50mm glass wool sandwich panel for the wall and roof, and the mezzanine floor using the galvanized metal deck.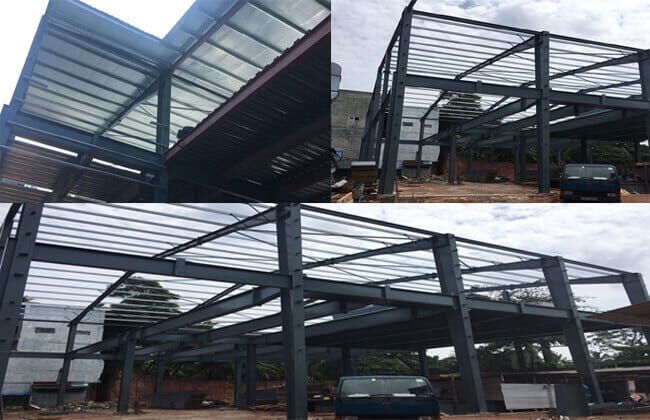 Description of Steel Warehouse Building SriLanka
We manufacture the steel building components and the enclosure system, which according to the design drawings. To expand the production scale, the customer broadened based on the original warehouse. All steel structural components bolted. We provide all accessories, including trim, flashing, gutters, high-strength bolts, self-tapping screws, and downspouts.
The steel structure warehouse is simple to install and quick to construct. The entire steel structure warehouse project took about half a year from the start of processing to the completion of the installation. It also includes the time of shipping. Each project, our team will study the drawings, optimize the design scheme, and reduce the total cost based on safety as much as possible. We optimize the design and also provide the best installation scheme to minimize customers' Work on-site; it provides customers with the best construction solution.
Every project begins with the communication between our team and customers. Usually, when our engineers calculate the quotation, they need the customer to provide the local wind speed, snow load, and also the live and dead loads on the roof. These are the essential calculation factors for steel structure buildings. The steel structure components we calculate must have sufficient strength to withstand severe external weather, and at the same time, be subject to the effects of earthquakes.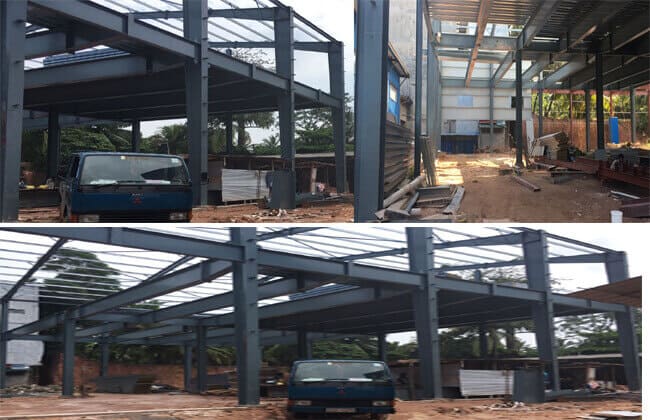 Our Advantage
Advantages of steel structure building:
Large span:
Steel has the characteristics of high strength, lightweight, excellent overall rigidity, and strong deformation ability, so it widely uses for large-span buildings.
Low cost:
Compared with building materials alone, the price of steel is higher than concrete, but prefab steel structure buildings have the advantages of a lightweight, it is fast and straightforward construction.
Lightweight:
Steel components are lightweight, so the cost of the foundation is low. The steel structures are prefabricated. All steel structural components are produced in the factory and then shipped to the site for installation.
Fast Construction: 
The construction is fast and straightforward. 10-15 people, and only can install a 2000 square meter steel structure workshop requires workers who can read steel building installation drawings, which significantly reduces labor costs.
Besides, the steel structure building is fast in installation. The entire building can be installed and put into use according to the customer's expected time. The equipment inside the steel structure workshop starts to operate, which will create economic benefits and reduce the overall investment of the customer.
Standard Features
Primary and secondary structural
Roof Pitch 1:10
0.5mm corrugated Roof and Wall Sheet
Fasteners and Anchor Bolt
Trim and Flashing
Gutter and downspouts
Structural Design plan & Erection drawing
Standard Features
Roll-up door
Man Door
Sliding or Casement Aluminum window
Glass Wool Insulation materials
Daylighting Panel
Roof Ventilator
Galvanized Floor Deck