Are you planning to build a public or private riding Arena? Do you want a sturdy, safe, spacious, clean, comfortable, versatile, and cost-effective riding Arena? Then you can consider a steel horse riding hall. Through comparison and repeated consideration, many customers began to choose the prefabricated steel horse riding hall.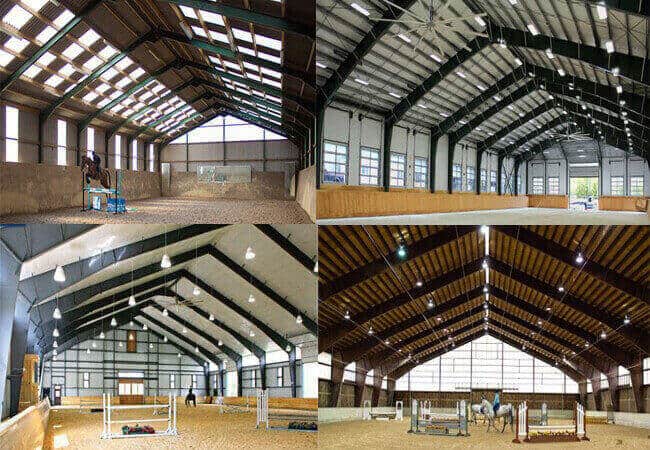 Why Choose the Steel Horse Riding Hall?
The steel structure is already a recognized safe building material, suitable for many large, medium, and small buildings. Safety and feasibility need not be doubted. The steel structure can be used for large-span structures to form an open and unobstructed internal space, without pillars in the middle, to maximize the site's space. Allows for larger performances, riding lessons and seats, and provides a wider riding space that is not affected by the weather.
Steel structure strong and durable
The steel structure is strong and will not crack, mold, or rot, and the anti-corrosion coating can guarantee no rust for 20 years. Not afraid of being eaten by horses. The steel structure has 50 to 100 years of service life, strong durability, and easy maintenance. Since it will not be damp and moldy, it reduces the invasion of termites, rats, and other pests and provides a more comfortable living environment for horses.
Besides, the steel structure construction speed is fast, the construction period is short, and the cost-effectiveness is high. It can be built into a closed stable, an open racecourse, and a semi-open spectator area. And the appearance is beautiful. The designer can boldly carry out the individual design, attract the audience. The steel structure building is easy to install and dismantle and can be rebuilt, added, or dismantled as required. Moreover, the steel structure recycling rate is as high as 90%, which minimizes construction costs. If you no longer need the horse barn, the building can be reconfigured into almost any other structure type. The versatility of the steel structure makes it easy to establish various expansion projects.
Horses are like their own family members, and the horse owner certainly hopes to give the horse the most comfortable home. The steel horse riding hall can choose the appropriate paint color according to the local climate, which is more conducive to indoor heat preservation and heat insulation, energy-saving and environmental protection, and a more comfortable experience.