Havit Steel provided the design and fabricate steel structure building for the customers. The steel building design for Thailand, which includes the steel structure office, workshop building, and parking lot. We show the style of the building through 3D renderings. It allows customers to have a clearer understanding of the structure and layout of the building.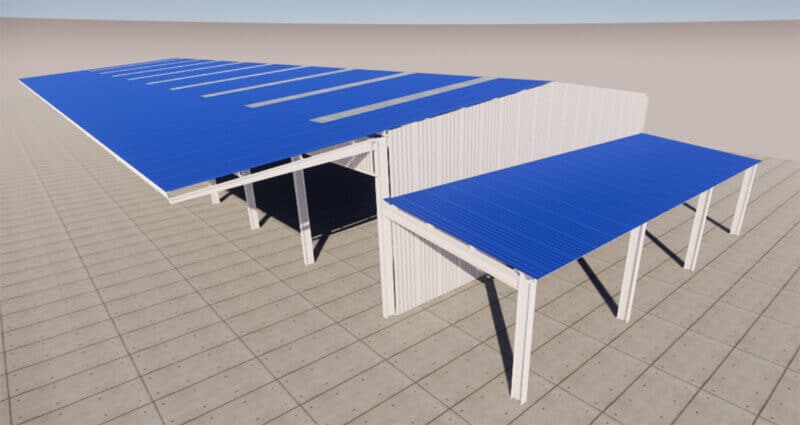 The Steel Building Design for Thailand
The steel building design for Thailand includes two parts. The first part is the workshop and office building design. The office size is 15m (width) x 15m (length) x 3m (height). The size of the workshop is 45 meters (length) x 15 (width) * 6 meters (height). There is a mezzanine in the workshop building. As for the mezzanine, we use the design plan of paving the floor deck on the steel frame and pouring concrete on site. This scheme has the characteristics of high safety performance, large load, no vibration, and good sound insulation effect.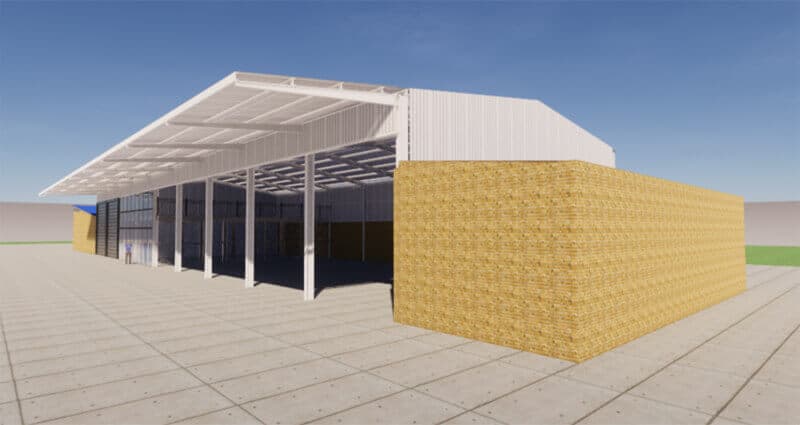 The wall panels separate the workshop and office buildings. Compared with civil construction, the steel structure can better meet the owner's requirements for building functions. Even if it is used as an office, it can meet the needs of thermal insulation.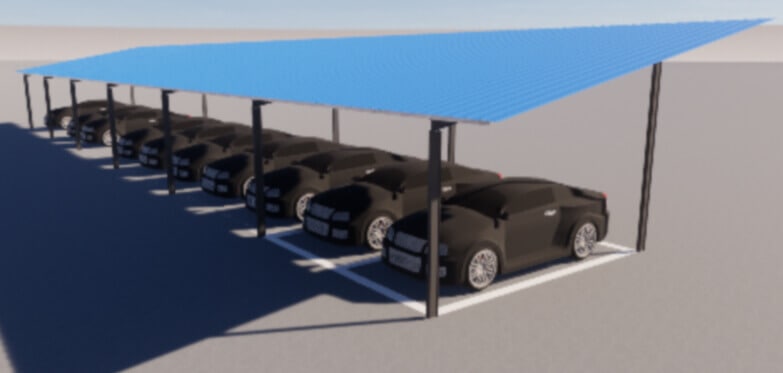 The other part is the steel structure parking lot; the size of the parking lot is 30 meters (length) x 5 meters (width) x 3-4.5 meters high—single slope structure—the roof of the parking lot made of a single-layer color steel plate. The construction is simple, and the cost is low.
The internal space design of the steel structure workshop The industrial workshop is a building that provides a workspace for the production of products. The purpose of its architectural design is to create a reasonable production space and workplace.
The following points need to considered when designing steel structure workshops:
1. Reasonable column spacing:
Steel structure workshops mainly use H-shaped steel columns and steel beams. The spacing of H-shaped steel columns has a significant influence on the amount of steel used and the total cost. We usually use economic column distance, 7.5m to 9m.
As for the projects with special needs, that can flexibly adjust. The determination of building height should not only meet the requirements of production equipment and production operations but also consider the height of maintenance more comprehensively.
2. Proper lighting and ventilation design:
As the enterprises adopt intensive production, the characteristics of large-span and large-space internal spaces are becoming more and more apparent. Therefore, steel building design should pay attention to lighting and ventilation design from the perspective of humanization and energy saving. When the workshop building is tall, the openable window at the bottom of the side exterior wall is used as the primary air inlet. By installing a roof ventilator, the ventilation and lighting problems are easily solved, and the actual operation is relatively simple.