Looking for a cost-effective and fast solution for your storage or industrial needs? Consider our 20m(W) x 50m(L) prefabricated warehouse building. This structure is manufactured in a factory and then transported and assembled on-site, saving you time and money. Plus, it can be fully customized to meet your specific requirements. With its integrated layout of warehouse and office, this building offers a two-story office structure and a single-story portal steel frame warehouse structure. Don't settle for traditional construction methods – switch to prefabricated buildings for a more intelligent choice.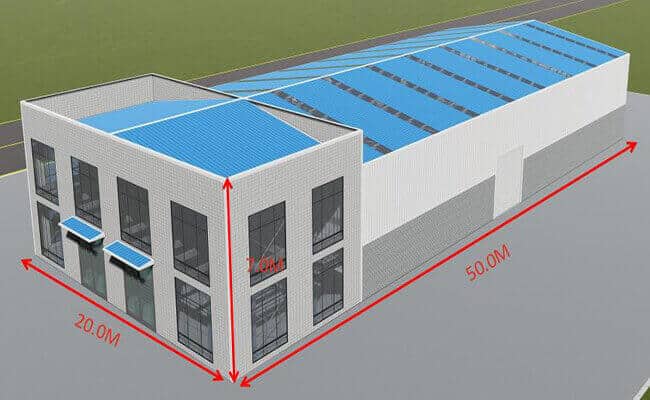 Components of prefabricated warehouse building:
Steel column: Q355B welded H-beam
Steel beam: Q355B welded H-beam
Platform beam: Q355B welded H-beam
Roof horizontal support: Q235B round steel
Wall support: Q235B round steel
Tie rod: Q235B welded pipe
Roof purlins: Q235B thin-walled Z-shaped steel
Wall beam: Q235B thin-walled C-shaped steel
Pull bar: Q235B round steel
Roof panel: 0.5mm thickness corrugated color steel sheet plus glass wool felt
Wall sheet: 0.5mm thickness corrugated color steel sheet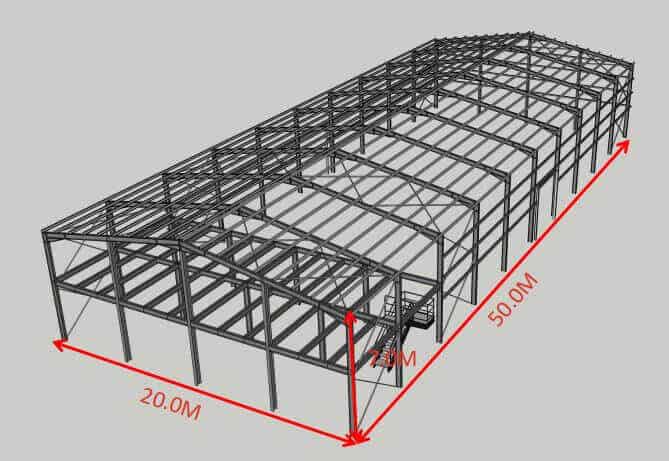 Structural design of the 20m x 50m Steel Structure Building:
20m(width) x 50m(length) x 7m(Height), the front two-bay design on the double floor is used for the office, and the other area is used for the warehouse.
The prefabricated steel warehouse building is designed in two parts. The prefab warehouse part adopts a portal frame steel structure. The 20m span can be designed as a single span without columns inside to meet the most significant storage space in the room. Two columns support the roof steel beams, the columns are connected to the foundation through embedded anchor bolts, and the steel columns and roof beams are directly rigidly connected through bolts. The portal steel frame is the main load-bearing component, and purlins, wall beams, and tie rods connect the various portal steel structures. There are supporting structures on the roof and walls, which can improve the stability of the overall structure.
The second-floor office adopts a frame structure; steel columns, floor beams, and roof beams are rigidly connected to form a stable structure. The floor is paved with galvanized floor-bearing plates, and concrete is poured on site. We suggest that the client's office building walls be made of brick walls, which can better meet the needs for heat insulation.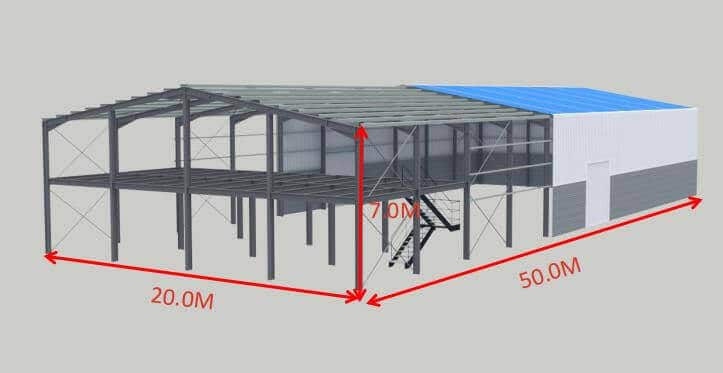 Advantages of Prefabricated Steel Warehouse Building over Timber or Reinforced Concrete
Warehouses built with wood are often exposed to the sun and rain all year round and are easily corroded. If temporary processing and welding items are carried out in the warehouse, sparks will be scattered everywhere, prone to fire, and not easy to extinguish. However, the steel used in steel structure warehouse's raw materials has high anti-corrosion properties, is not easy to burn, has high fire resistance, and is not inferior to the concrete warehouse building in the past in terms of strength.
The main load-bearing components of the prefabricated warehouse building are all of the steel materials, such as the steel roof truss structure composed of steel columns, beams, and steel roofs. The warehouses built by these steel structures have an excellent effect on ecological protection. The steel structure warehouse can be dismantled, which will not cause environmental pollution, and will not waste cost resources. It is beneficial and harmless to the natural environment and the cost of the plant.
The prefab steel warehouse building consumes less time, and the construction period is much shorter than ordinary buildings, which can significantly reduce the investment cost. Moreover, the service life of the steel structure warehouse can reach 50 years. Its entire structure is generally composed of cold-formed thin-walled steel components. In terms of maintenance, it only needs to be inspected regularly every year, and the anti-corrosion coating should be applied again to the corroded place for protection.