Steel Structure Storage Facility is now primarily used to design industrial storage. It has the characteristics of light weight, large span, flexible column network layout, and easy connection of technology, and the components can be processed and manufactured in the processing plant; the construction period is short, and the project quality is easy to guarantee.
Issues such as heat insulation, drainage, and ventilation should be focused on the overall design of the steel structure storage facility. Structural design should focus on controlling the structural system, components, and connecting nodes. According to its characteristics, we can maximize the strengths and avoid weaknesses better to play the role of the steel structure storage facility.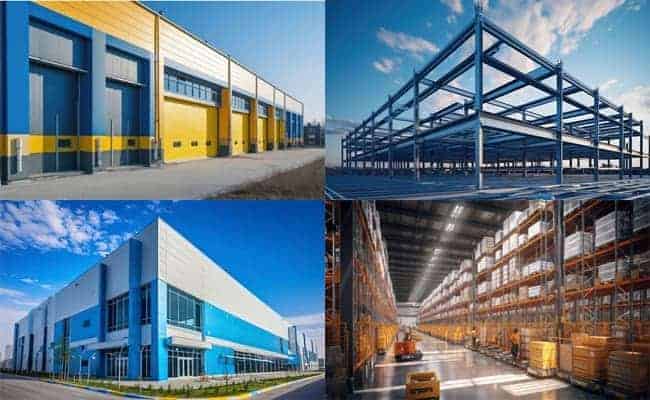 The design of the steel structure storage facility
Thermal Insulation and Fire Protection for Steel
Steel exhibits high thermal conductivity, with a thermal conductivity rating of 50 W/(m·°C). As steel is subjected to temperatures exceeding 100°C, it experiences a reduction in tensile strength and an increase in plasticity. When the temperature reaches 250°C, the tensile strength of steel further declines.
As the temperature rises, plasticity decreases, and the risk of blue brittleness emerges. Upon reaching 500°C, the power of the steel significantly diminishes, posing a potential threat to the structural integrity of steel components. Hence, when the ambient temperature surrounding a steel structure surpasses 150°C, it becomes imperative to implement heat insulation and fire protection measures.
A common approach involves enveloping the steel structure with refractory bricks, concrete, or rigid fireproof boards or applying a fire-resistant coating. The thickness of these protective layers should adhere to the guidelines stipulated in the "Technical Regulations for Fireproof Paint on Steel Structures."
Roof Waterproofing and Drainage Design
Thoughtful consideration must be given to the drainage and waterproofing design of the roof. According to the "Technical Specifications for Roofing Engineering," it is advisable to maintain a minimum roof slope of 5%. An appropriate pitch increase is recommended in regions prone to heavy snow accumulation.
The length of a single-slope roof primarily hinges on the local temperature variations and the maximum water head height due to rainfall. Based on engineering design experience, it is recommended to constrain the length of single-slope roofs to around 70 meters.
Installing roof fan outlets close to the roof ridge is recommended to facilitate the addition of more color sheets for flood control. To prevent rainwater leakage at the joints of different materials, methods like partially raising the purlins and elevating the color panels, can create localized height variations in the color panels. When joining daylighting strips with colored steel sheets, it is essential to ensure that the shape of the daylighting strip aligns with the colored steel sheet, with an overlap width of not less than one peak and one trough.
Roof drainage methods are categorized into free drainage, internal gutter, external gutter, and other techniques. The discharge of rainwater can be managed through gravity flow drainage and siphon drainage. Given that most roof leaks and backflow issues are associated with gutters, it is advised to minimize the use of internal drains due to their high cost.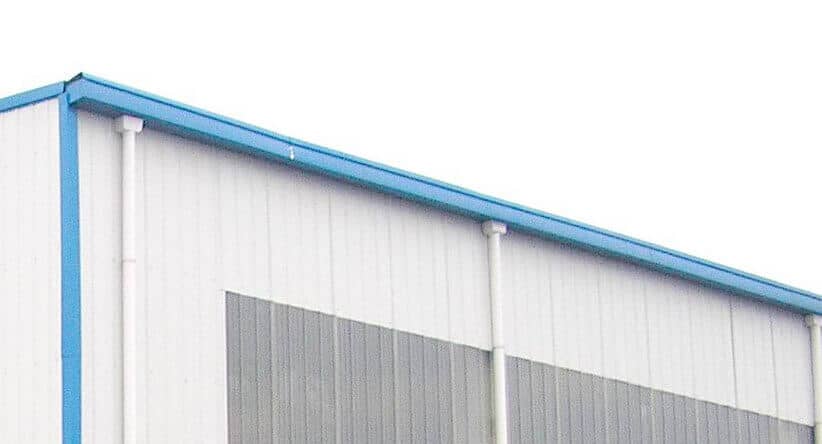 Drainage within internal gutters can be achieved by directing rainwater through downpipes to underground drainage channels or by implementing horizontal hanging pipes in the storage facility to collect external drainage in sections.
Ventilation design
According to the storage facility's ventilation and smoke exhaust requirements, skylights and ventilators can be installed on the roof, and opening windows or exhaust fans can be installed on the walls. A centralized air supply can also be set up when the workstation is fixed. During engineering design, they can be selected according to process characteristics.
In short, the design of steel structure storage facilities should be comprehensively according to their characteristics so that the design is safe, reliable, economical, reasonable, and meets the process requirements.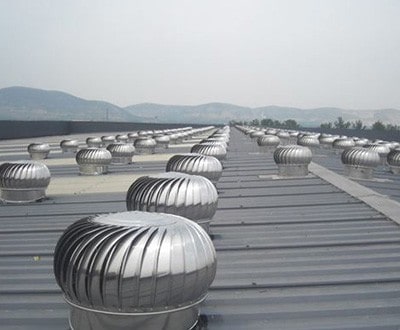 Structural and bracing Layout of steel structure storage facilities:
The design of the structural system should be carefully considered to maintain stability, clear force transmission paths, and an efficient distribution of loads.
The arrangement of the bracing system should be rational, providing a stable structure with coordinated force transmission. Attention should be given to the bracing between columns, considering equipment placement, logistics, and people flow. The inter-column bracing can take various forms, including upper, lower, cross, and portal frame bracing. Proper arrangement is crucial to transmit internal forces effectively.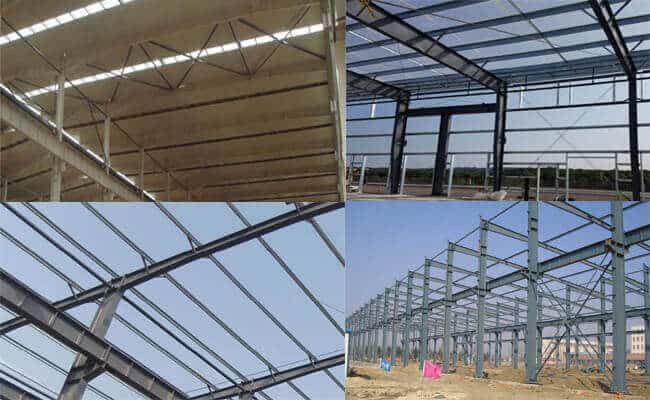 Node Design:

Node design is a critical aspect of steel structure storage facilities design. The form of nodes should align with the force transmission characteristics. Node types include rigid joints, hinged joints, and semi-rigid joints. Structural engineers must ensure that nodes can handle bending moments and rotations without causing excessive deformation. Care should be taken when designing nodes in multi-span storage facilities, particularly at attached spans or high- and low-span connections.
Component and node design of steel structure storage facility
Component design
(1) The design of components starts with the selection of materials. The more commonly used ones are Q235 and Q355. Usually, a single steel grade is used for the main structure to facilitate project management. For economic reasons, you can also choose a combination of steel sections with different strengths. When intensity is controlled, Q355 can be selected; Q235 should be used when controlling stably.
(2) Current structural software all provide post-processing functions for cross-section verification. Due to the advancement of program technology, some software can increase the size of components that fail the calculation by one level from the given cross-section library. And automatically reanalyze and calculate until passed, such as PKPM, sap2000, etc.
Summarize
The design of steel structure storage facilities involves many vital elements, such as structural system selection, bracing system design, component design, and node design. Reasonable selection of structural systems, layout of bracing systems, and precise method of components and nodes are crucial to ensuring industrial storage facilities' stability, safety, and economy. Various factors must be carefully considered in engineering design, including usage requirements, geographical conditions, seismic design, etc., to ensure that the final steel structure meets all requirements.