Steel structure bus shelters have the advantages of high strength, good safety, long service life, and diverse designs and are currently widely used in public transportation systems.
The bus shelter belongs to the city's public facilities, and the changes in the bus shelter also show a certain town's characteristics and development level to some extent. We will find various bus shelters in different cities and countries. The bus shelters in our city are constantly changing. In some places, the bus stops may only have bus stop signs, some have only one or two benches, some are the simplest sheds that can provide maximum shade, and some are antique bus shelters with unique shapes, modern and fashionable smart bus shelters, etc. Especially in the more developed places, or the bus shelters in the city center of a certain city will be more stylish and modern!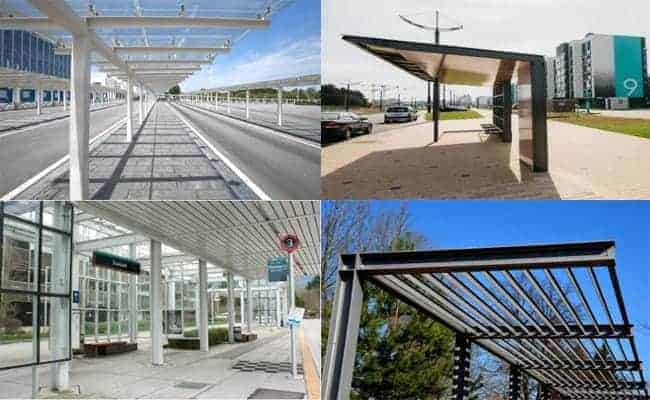 Material of bus shelter
As a city continues to develop, public supporting facilities will be upgraded, and bus shelters will continue to grow and improve as public facilities. With the city's development, the shapes of bus shelters are becoming more and more diverse, with more and more functions, and intelligent bus shelters have also emerged as the times require. Of course, the most basic part of the bus booth is to make it easier for people to wait for the bus more comfortably, so supporting seats and shelter from the wind and rain are the most basic supporting facilities. In addition to these basic supportive facilities, we found that the bus station is an excellent advertising board and cultural promotion station. Once a city's bus booth is completed, it will also play a perfect role in publicizing the city's image!
As a result, bus booths with various materials and different design shapes appeared, including stainless steel, aluminum alloy, and steel structure. However, the most popular is the bus booth made of steel structure. In addition to being economical and cost-effective, it also has other advantages.
Advantages of steel structure shelter:
1. The steel structure shelter has strength and higher safety performance!
Safety is the first principle of bus stop design. Designers need to consider whether the structure meets safety standards, whether it can withstand the impact of bad weather, and pay attention to the setting of personnel safety passages.
2. The steel structure bus shelter can be designed in various ways, which is more beautiful and meets the needs of different shapes.
The steel structure can be easily satisfied, whether a modern and fashionable special shape, an antique body showing urban characteristics, or other color images. The principle of comfort requires that bus stops be designed to make people feel comfortable, safe, and relaxed. Add rest seats, set up guardrails to increase safety, and rationally design sunshade functions to ensure air circulation in the bus platform and reduce the accumulation of pollutants. Steel structure bus booths can be perfectly solved.
3. The steel structure shelter has a long service life.
The principle of sustainable development requires considering the environmental impact in the design, reducing resource consumption and surrounding ecological implications, and ensuring the long-term use of bus stops. The steel structure is a recyclable material that meets the sustainable development principle.
4. The steel structure bus shelter is equipped with an intelligent system.
Smart bus shelters are gradually integrating into all aspects of people's lives with the continuous development of science and technology. They provide people with convenient and fast services by identifying information and providing waiting reminders, escalators, and other functions.
Smart bus shelters have the following advantages:
High efficiency and energy saving, safe and stable, convenient and fast, convenient and intuitive, humanized design. Smart bus shelters can effectively reduce energy consumption and improve operational efficiency through real-time monitoring and feedback of the time of passengers entering and leaving the station; they not only have voice broadcast functions but also provide information such as emergency alarms to ensure the safety of passengers' personal and property;
The intelligent bus shelter uses advanced network communication technology to realize the work that the traditional bus shelter cannot complete, which greatly improves transportation efficiency; it is equipped with various information display windows to make it easier for tourists to obtain relevant information; and the intelligent bus shelter system according to the needs of different groups of people, providing a variety of display forms, with humanized design.
No matter how the bus booth develops, it is to make people's travel and life more convenient. Steel structures constantly infiltrate people's lives in addition to bus booths, sports ground rest stops, sports equipment, stadiums, bulletin boards, stairs, and many other subdivided areas. Steel structures can be seen. Steel structures are bringing more and more convenience to our lives, and we can explore the application of steel structures in more fields.