In recent years, steel structure buildings have been widely used in various fields, and national policies also strongly support the development of steel structure buildings. Many government-invested office buildings, affordable housing, hospitals, schools, and other public and public welfare buildings have also begun to use steel structure buildings in large quantities. So steel structure schools are no longer unusual!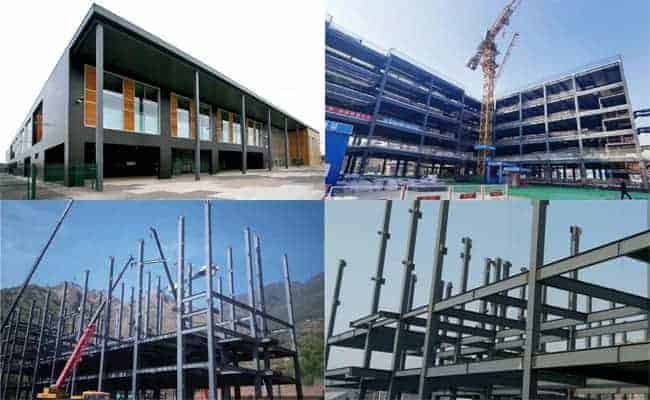 Why is the steel structure school promoted and used?
1. The steel structure's advantages meet the school's requirements.
School projects, including teaching buildings, student dormitories, playgrounds, kindergartens, and other prominent buildings, can all use prefabricated steel structure buildings. The steel structure has the advantages of good earthquake resistance, strong plasticity, low carbon, and environmental protection. Especially in the post-disaster reconstruction of the earthquake area, many buildings began to be constructed with steel structures. Steel structure buildings have a short construction period, and good earthquake resistance, which can speed up earthquake area reconstruction and bring children safety. Most of the steel structure buildings are prefabricated in the factory, the installation is simple, and the prefabricated steel structure buildings do not even require secondary interior decoration.
Project case for Steel Structure School
For example, in 2018, a primary school in Shenzhen completed nearly 25,000 square meters of landscape construction and 8,200 square meters of building construction in only 138 days, including 30 classrooms, eight teachers' offices, and computer, music, and science classrooms. In addition, an art classroom, dance classroom, library, clinic, lecture hall, canteen, playground, etc., to meet multiple needs and ensure the smooth start of school for more than 1,600 teachers and students. This primary school is a critical prefabricated steel structure project of the Shenzhen Municipal Government.
2. Green environmental protection, less pollution, high recyclability
Almost all the accessories of the prefabricated steel structure building are prefabricated in the factory and shipped to the site for assembly without a lot of dust and noise, so there is no need to worry about pollution to the surrounding environment during the construction process. Moreover, steel structure buildings are green, and over 90% can be recycled and reused. With the development of the economy, the population of our country is also decreasing, and it may become more and more difficult to enroll students in a large number of expanded school buildings. It is predicted that many schools may be merged and reorganized in the future, and some schools will be abandoned. The steel structure school can be recycled and reused to reduce construction waste. Steel structure buildings are mainly made of steel, a national resource. The construction of many steel structure schools also aligns with the national policy of storing steel for the people.
3. Fireproof and insectproof, good safety performance
Steel is a non-combustible material that is hot-dip galvanized for corrosion resistance and fire protection. The steel itself is insectproof and will not be eaten by insects. Steel has high strength and good safety performance. As long as you don't cut corners and materials and don't reduce the amount of steel used at will, and the design is reasonable, you can prevent mistakes in the construction stage and reduce the possibility of rework. The main building of the steel structure has high strength, lightweight, has good heat insulation performance, and has a substantial energy-saving effect.
4. The steel structure has strong plasticity and can be designed in a variety of ways
The steel structure can be designed in various shapes according to the school's needs, and it is no longer limited to rigid cement walls. Especially like stadiums, sports venues with large spans and large spaces can be built according to needs. The art classroom can also be built into a unique shape according to the art design to meet the children's pursuit of beauty! It can also be made into exterior walls of different colors according to the needs of diverse classrooms!
Many steel structure schools have appeared in various places in China and have been applied, and the effect is also perfect. The technology of steel structures and prefabricated steel structure buildings has matured daily. Therefore, I believe there will be more steel structure school buildings in the future!