In recent years, my country's intelligent manufacturing field has entered a stage of rapid development, especially in the context of favorable policies. As a pillar industry of the national economy, under the influence of many factors, the intelligentization of the steel structure industry will also become a trend in the construction industry. Steel structure buildings, especially prefabricated buildings, will be easier to achieve intelligent manufacturing due to their production advantages.

Moreover, under the national "carbon peak" and "carbon neutral" goals, prefabricated steel structure buildings are necessary means and measures to ensure that the construction industry as a whole achieves carbon emission reduction goals, and prefabricated steel structure buildings will be actively promoted.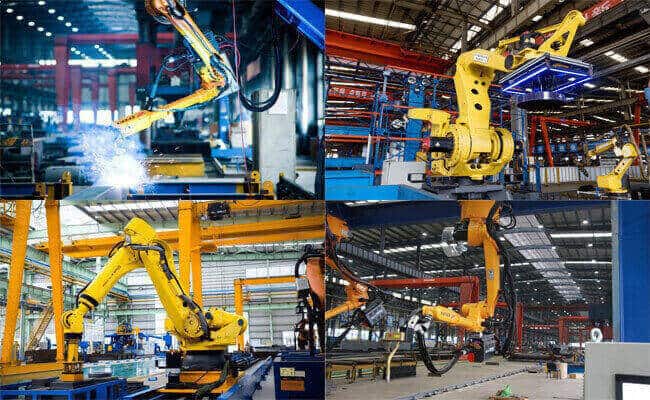 The Main Aspects of the Intelligentization of Steel Structure
1. The intelligentization of equipment will become a breakthrough in the transformation and development of the manufacturing industry.
At present, steel structure manufacturers, whether light steel, heavy steel, or fabricated steel structure beams (H-shaped steel beams, box beams), often use welding equipment in the production process. It can be said that welding equipment and welding technology are The steel structure industry is significant, very critical, and directly determines the quality of steel. Traditional welding equipment often needs to be assembled separately, then welded and rectified. It requires a lot of labor and has low work efficiency. In the case of large orders, it isn't easy to complete the production as planned and even affects the delivery cycle. On the other hand, in the case of small batches and personalized customization, traditional welding equipment is also difficult to complete production. The emergence of small welding robots and emerging technologies will promote the intelligent welding of steel structures.
2. Each processing flow realizes the intelligentization of steel structure
A. Intelligent blanking
Through the secondary development of the automatic nesting system, intelligent blanking can realize automatic discharging, strip blanking, and stacking of plates, effectively improving the utilization rate and cutting efficiency of plates.
B. Smart welding
Intelligent welding can realize automatic assembly, welding, shaping, and sawing of strips through the independently developed software system, suitable for the flexible production of H-beams of different specifications.
C. Intelligent accessories processing
Intelligent auxiliary parts processing is a highly integrated intelligent, comprehensive processing station. Through modular software design, 3D vision system, weld tracking system, and other technologies, it can not only realize the assembly of ribs, end plates, connecting plates, and other auxiliary parts on H-shaped steel And welding, it can also realize complex functions such as unlocking, drilling, and cutting notches.
D. Intelligent spraying
Intelligent spraying can realize automatic shot blasting, spraying, and drying of H-shaped steel.
The intelligentization of steel structure can significantly improve the production and processing accuracy of steel components, enhance welding quality, increase production efficiency, and significantly reduce labor intensity and labor costs. Therefore, the intelligentization of steel structure buildings is inevitable for continuous reform and exploration of steel structure production enterprises.