In 2023, builders and developers constantly look for new and innovative materials to improve their construction processes. However, despite the new materials that roll out, nothing can top the material responsible for shaping the modern world–steel. No other material can match the advantages of steel structures in strength-to-weight ratio, durability, and versatility. In addition, current prefabrication processes have made this revolutionary product more accessible to work with than ever. Please keep reading for a complete breakdown of all the advantages of steel structures and what makes them an ideal building material!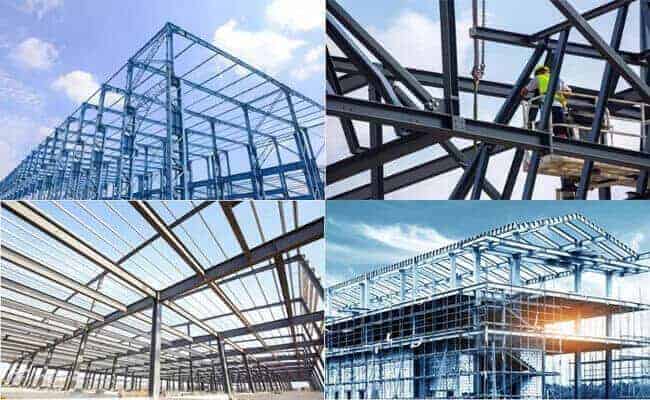 The Advantages of Steel Structures
1. Durability
Building owners want a structure that will stand the test of time while being as low maintenance as possible. Steel is at the top of the list of building materials in this regard, as most steel buildings can last well over 100 years with very little upkeep attention required.
Steel is a strong and durable material that can withstand the elements. Steel buildings are unlikely to suffer damage from storms, fires, or earthquakes. In addition, steel is a non-combustible material, which makes it less likely to catch fire than other materials.
The great news is that steel provides all these durability benefits without ongoing maintenance. It does not require painting or sealing like other materials, such as wood or concrete. An annual pressure wash to knock away mud and other clinging debris is typically all it takes to keep steel structures pristine for years.
2. Sustainability
With the world working toward a net-zero economy to slow the effects of climate change, sustainability is at the top of the considerations for commercial buildings. To this effect, steel is one of the most sustainable building materials on the planet.
Steel is a highly reflective material that does not absorb sun rays as readily as other materials. This can help keep the building cool during summer and reduce reliance on air conditioning.
In addition, steel structures are compatible with a wide range of insulation types, such as spray foam insulation for metal buildings. This can further leverage the energy efficiency benefits of steel buildings by improving the R-value.
Finally, steel buildings are elementary to repurpose and recycle. Most prefabricated steel buildings can be taken apart and transported to new sites to serve a second life. If complete demolition is necessary, steel can be melted down and reforged, giving it some of the top marks for recyclability among building materials.
3. Shorter Construction Times

Contractors are under increasing pressure to get buildings up quickly as deadlines become tighter. Building with steel can help in this regard in a couple of ways. One of the most important is prefabrication, which allows for off-site construction. This means that much of the work can be done in a controlled factory setting, and the pieces can be shipped to the site for quick, accurate assembly.
Another efficiency of building with steel is that it requires less elaborate foundations than other construction types. Steel is lighter and stronger than other materials so it can support more weight with less material. For example, if contractors explore the benefits of form deck vs. composite deck in commercial building foundations, adequate load bearing for a steel building can be achieved in a few days. This can help get the steel structure up and running ASAP, helping the building generate revenue rather than being tied up in expensive construction loans. In contrast, the building is slowly pieced together.
4. Versatility

Commercial buildings have to wear a lot of hats in 2023. They need to be able to serve as warehouses, retail outlets, offices, and more. Steel buildings are the best choice for versatility, as they can be easily reconfigured to serve various purposes.
Steel buildings offer a tremendous clear span, making the interior open and free of columns or walls. This makes it easy to reconfigure the space as needed. In addition, steel is compatible with a wide range of cladding materials, so you can choose the look that best suits your needs.
A steel building can easily handle the job if you need to open a new retail store, expand an existing warehouse, or add a new wing to an office complex.
5. Outstanding Safety

Safety is at the forefront of commercial building concerns, as accidents can lead to costly litigation and wrong public perception. Another reason building with steel is a great solution is that it offers outstanding safety.
First, steel is a robust, durable material that can withstand the elements. Steel buildings are less likely to suffer damage from storms, fires, or earthquakes. In addition, steel is a non-combustible material, which makes it less likely to catch fire than other materials.
Finally, steel is a very safe material to work with. It does not release any toxic fumes or chemicals when cut or welded. This makes it a much safer option than other materials, such as composites or plastics, which can release poisonous fumes and VOCs when cut or exposed to high temperatures.
Steel buildings are among the safest in the world if paired with adequate complementary features, such as cable railings, smoke detectors, and non-slip flooring materials.
Explore the Benefits of Building With Steel Today

Despite new products constantly flooding the building materials market, nothing can beat the tried-and-true performance of steel for creating durable, cost-effective structures. For more information on how to use steel in an upcoming construction process, explore the resources at Havit Steel Structure for the latest insights in the steel building industry!