Steel Shop Building in Botswana
The steel structure shop building designed and manufactured by Havit Steel has completed the installation. The prefab steel structure building used as a tire service shop in Botswana. The entire metal building is 55 meters wide, 36 meters wide, 6.3 meters high, which divided into two spans, each Span 18 meters. After we produce steel structural building components, we ship them to customers and provide installation drawings, the installation processed by local workers.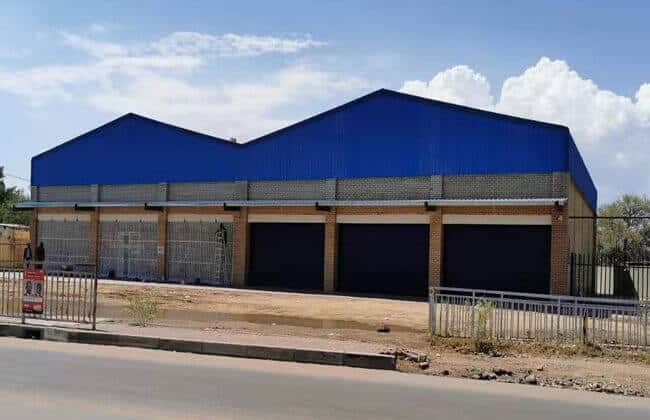 Steel Shop Building in Botswana
The customer chooses to use the steel structure building for the tire service shop. The primary consideration is that the prefabricated steel structure building has the advantages of fast and straightforward installation.
When starting to communicate with customers about this project. The first need to understand the detailed dimensions of the entire building, including length, width, and height.
We calculate the wind load according to the local wind speed to ensure that the whole structure is sturdy and durable.
The steel structure building we design the service life for more than 50 years. So we first need to consider safety for each building, and then the economy.
The steel shop building is a double-span, double-slope structure with colored steel and lighting panels for the roof, and a brick wall 5 meters high. Above the brick wall is a part of the metal cladding wall sheet.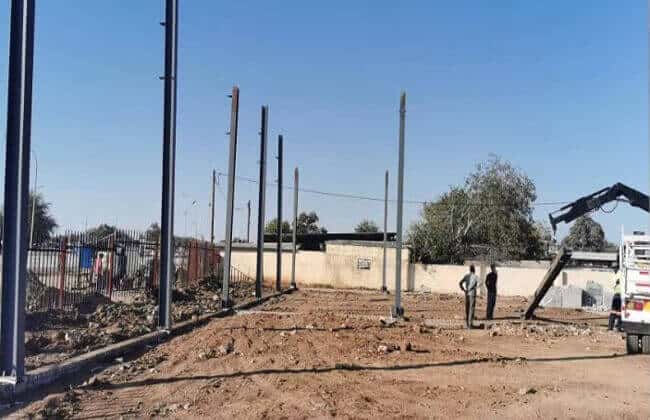 Our Advantage
Havit Steel considered the simple installation first when designing steel structure shop buildings.
The processing equipment in our workshop numerically controlled. It can ensure accuracy during the processing of steel building components.
Each steel parts with a number, and we will provide detailed installation drawings to guide customers to construction, so even if there is a lack of skilled workers local, the installation can complete according to our installation drawings.
We provide a full range of accessories, including rolling shutters door, aluminum windows, man door, gutters, downspouts. Customers do not need to purchase additional parts, which saves installation time and reduces overall costs.