Metal Cladding System
The metal cladding system includes wall cladding, roof cladding, skylight sheet, flashing and trim, gutter as well as insulation materials. They are essential components of steel structure building, which determines the appearance, waterproof, and thermal insulation of the building.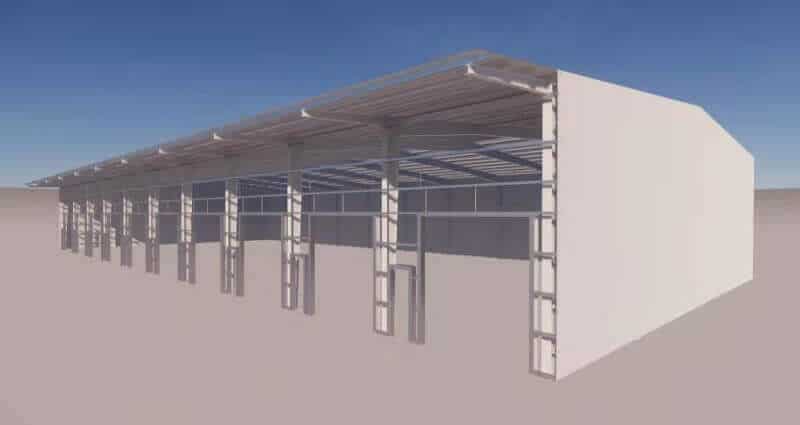 The components of Metal Cladding System
Metal cladding system include Corrugated Metal Sheet, Glass Wool Insulation, Skylight Sheet, EPS sandwich panel, Glass Wool/Rock Wool Sandwich Panel and Polyurethane (PU) Sandwich Panel.
Trim and Flashing for Metal Cladding System
The trim and flashing used for waterproofing. Generally refers to the colored metal sheet bending parts at the door, window, corner, eaves, canopy and other parts of steel structure buildings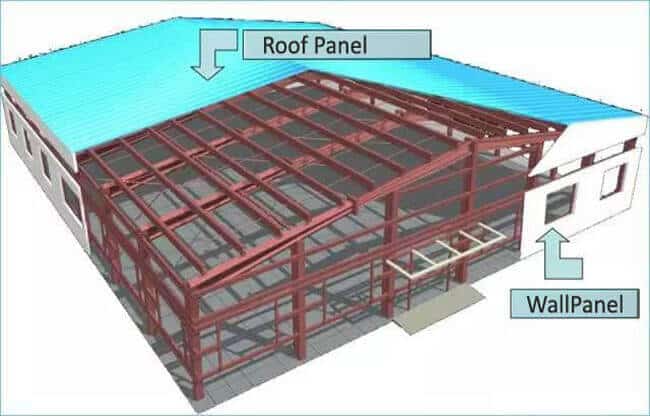 The Trim and flashing of the metal building, which mainly uses for waterproofing. Generally refers to the colored metal sheet…
Base Trim
The base trim is a barrier between the bottom of the exterior wall cladding and the foundation. Angle steel bolted to the edge of the concrete floor. The base trim is connected to the angle steel, forming a ledge under the exterior wall panel.
The Base trim uses to prevent the bottom of the wall panel from contacting the concrete slab and protect the metal sheet, and
cover the irregularities of the foundation edges to make the foundation edges more neat and beautiful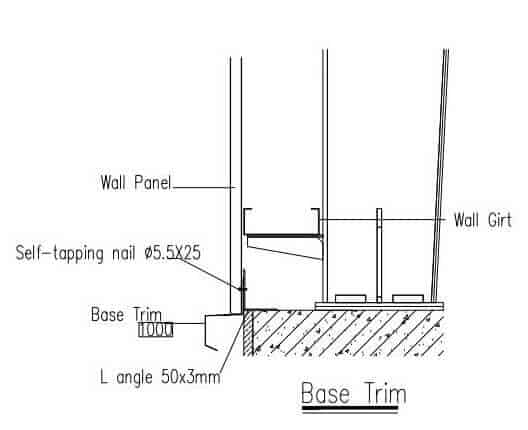 Wall Corner Trim
The Wall corner trim placed at the exterior walls corners of the metal building to cover the joints where the sidewalls and the end wall panels meet for waterproof and decoration.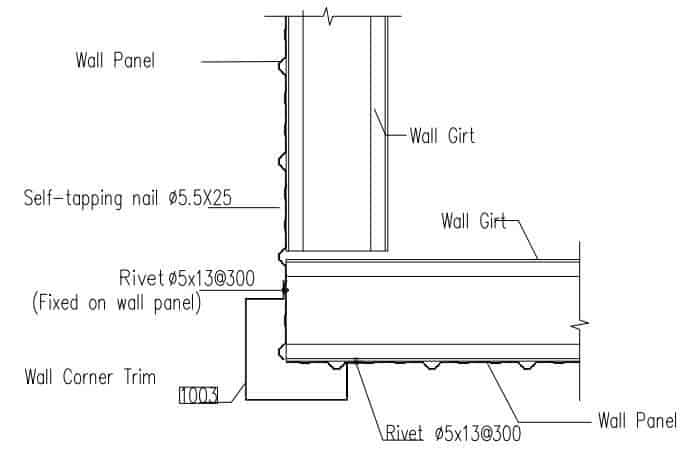 Gutter
The gutter is an essential component of the roof drainage system, which used to collect rainwater and drain it through the downspout temporarily. The overlap of the gutter is 100mm, and rivets connect the overlap.
Gutter classification:
1. steel plate.
2. galvanized plate.
3. stainless steel.
4. metal color sheet.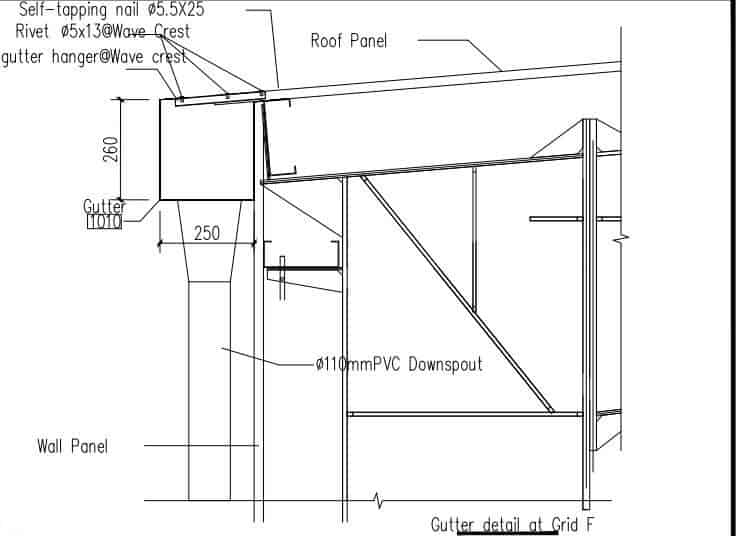 Roof Ridge Cap
The metal ridge trim is at the highest point of the ridge, where the two roof panels overlap, the trim arranged along the hill, where the two ribs intersect.
The ridge trim cap erects after the roof panel finishes installing.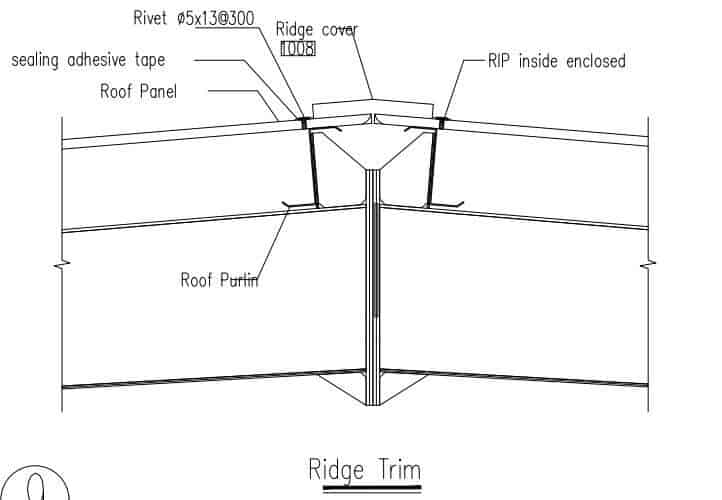 Gable Trim
The angle of the gable trim matches the slope of the gable roof and covers the joint formed by the intersection of the roof panel and the end wall panel on the steel building, and there is no overhang at the roofline.
The combination of the gable trim and sealant provides a waterproof seal for your roof system.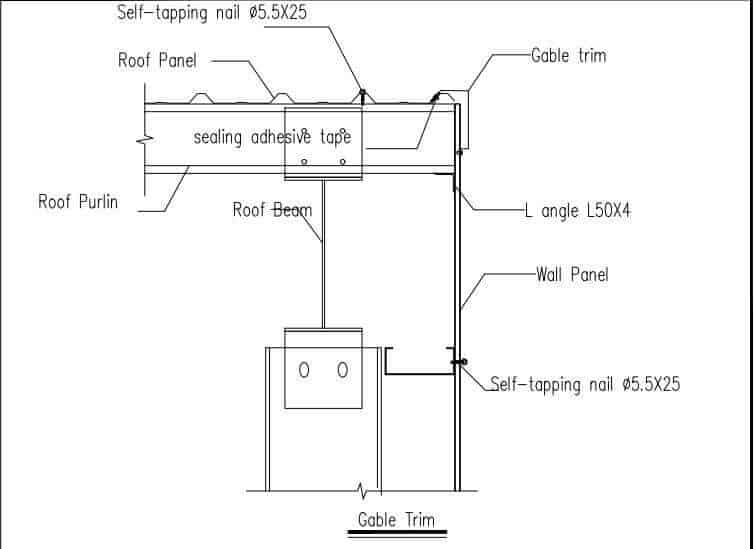 In recent years, metal buildings widely used in workshop and warehouse buildings, exhibition halls, and office buildings, which due to the low steel consumption, fast and straightforward installation, and a high degree of industrial production. It promoted the development of the metal cladding system, which from singularity to diversification, and then triggered a change in new design and installed the metal building cladding panel. The metal cladding system of steel…